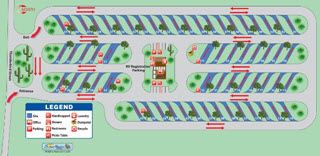 About 6 years ago, we helped Luke AFB in Arizona conduct a survey to see if there was interest in a famcamp to be located on Luke AFB. They already operate Fort Tuthill Recreation Area near Flagstaff and the Gila Bend Auxiliary Field FamCamp. For the past few years, we've been monitoring their decision to build and the construction of the new famcamp and it's finally time to have their grand opening!
Saguaro Skies FamCamp at Luke AFB in Glendale, Arizona is having their grand opening on September 1st, 2020.

Find information, maps, and photos of the Saguaro Skies FamCamp at Luke AFB, AZ.
Naval Air Station Key West (NASKW), FL has released new policy changes regarding reservations, rotation policy, and stay limits.
These changes will have a huge impact on staying at NASKW for the winter.
In summary:
After this season ends (2019/2020) campers will NO LONGER be allowed to stay here for longer than 90 days.   You will have to leave for at least 60 days before you can come back to the campground.   (Active duty will be able to remain in the campground until the end of their assignment.)
Another IMPORTANT change is there will no longer be a rotation---dry to full hook ups.   When you make a reservation you will be asked if you want EITHER dry camping or full hook ups, you will NOT be rotatings it is now.   Reservations can be made 6 months retirees/100%; 12 months for active.