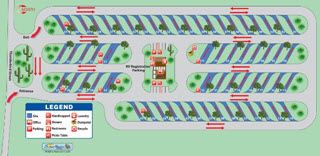 About 6 years ago, we helped Luke AFB in Arizona conduct a survey to see if there was interest in a famcamp to be located on Luke AFB. They already operate Fort Tuthill Recreation Area near Flagstaff and the Gila Bend Auxiliary Field FamCamp. For the past few years, we've been monitoring their decision to build and the construction of the new famcamp and it's finally time to have their grand opening!
Saguaro Skies FamCamp at Luke AFB in Glendale, Arizona is having their grand opening on September 1st, 2020.

Find information, maps, and photos of the Saguaro Skies FamCamp at Luke AFB, AZ.