The following review was written and submitted in early March 2023 by website user Dede.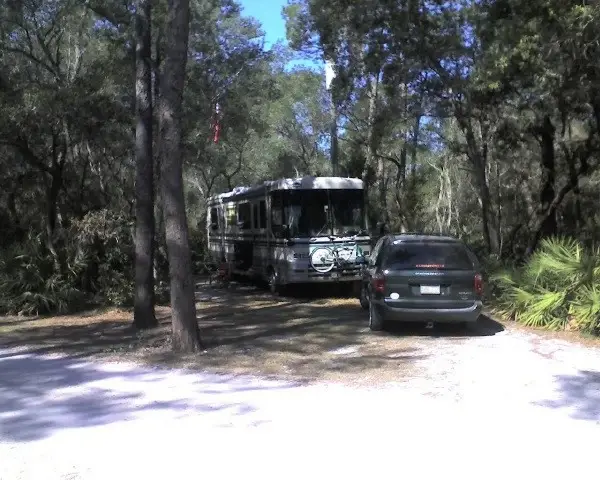 The overall presentation of Tyndall AFB FamCamp *** 3-5 stars. Primary buildings, office, maintenance garage, Clubhouse, and cabins were well maintained and clean. In addition, stone covers all roads and overflow parking areas.
The FamCamp has basic amenities, one hundred plus sites, with water, electricity, and sewage hookups. Each site has a concrete slab and picnic table. Several of the tables need repair and a fresh coat of paint. Other locations need shingles replaced on the canopy or the canopies removed. The park has a couple of benches and swing sets sitting at the water's edge. Again, these amenities need a fresh coat of paint and basic repairs. The estimate for paint tables, benches, and swing replacement is under $3,000.
FamCamp guests also asked for Doggie disposal containers. Many expressed disgusts about carrying their pet's waste back to their RV. This suggestion was taken, and Amazon delivered two waste disposal bins before our departure. Cost less than $500.
MWR has a commercial account with Mediacom offering cable hookups. Not all cable services are in working order. Three individual pedestals in the park have been demolished and have exposed wiring. Our own site Lot 5 had intermittent cable. After several attempts to connect, we gave up and hooked into our satellite system. A work order should be initiated. Repair of the three pedestals with a follow-up and review. This is a primary commercial account. The contractor knows they will receive payment because it's a government contract. Mediacom needs to be held accountable for its services.
Tyndall FamCamp has no internet services on-site, and they need a primary hotspot to connect. During our visit, I was given many different stories about why not. An informal poll was taken between cable TV and internet services. Ninety-five percent said Wi-Fi. A suitable location for a hotspot could be the Clubhouse. 
Another option is changing vendors. Version has personal hotspot devices. A Version Hotspot is rented from the office at check-in. Cost $100, and at check out, a refund is issued.
On a walkthrough of the playground equipment, I found that the stairs on the slide needed to be replaced or repaired. After talking with several families, I learned it had been reported to management several times. I visited MWR staff to follow up with the families concerned. The third week of February, it was closed until repairs could be made. These families need a safe place for their younger children to play. But first and foremost, it must be safe.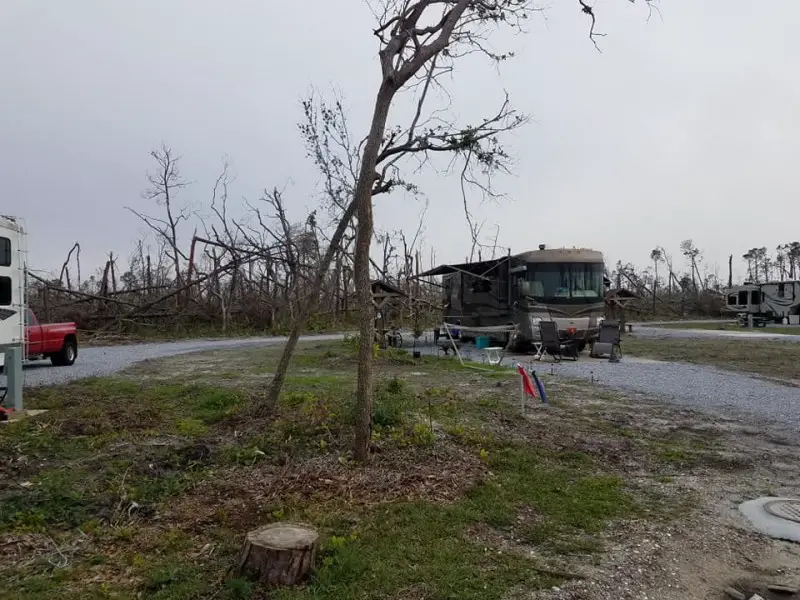 FamCamp after 2018 Hurricane
 True, Hurricane Michael demolished Tyndall AFB in 2018.
It takes time and money to rebuild an organization after a disaster. True, the military has procedures in place to orchestrate such disasters and the rebuilding process.
In the 2022-23 season, the Tyndall FamCamp had a substantial rental increase from $550 to $800 monthly. Do the math, FamCamp is a cash cow for all MWR programs. Some of that money must be returned to update and maintain property and programs.
Guests question the feral cat population at the campgrounds. However, the cat population is a necessity for the environment here at the camp. First, one must understand the demographics of Florida's ecosystem. If the population is trapped and spayed/neutered, it will eliminate many issues. A feral neutered male will become territorial and keep other male cats from entering the area. A male cat can smell the scent of a female up to a mile away.
In addition, the male will adopt spay females establishing what is known as a cat colony. A colony can have as many as two to three males, and a sterile colony can exist for years without incidents. Bird feeders are discouraged in all campgrounds. The reason is birdseed attracts birds, seed attracts rodents, and rodents attract snakes. The critical element is the cat population. I'm not too fond of mice, but terrified of the venomous snake population. Feral cats have a purpose and an important job to maintain the safety of our guests. I prefer feral cats more than venomous snakes.
Adding a statement to the information packet would explain the reasoning behind the cat population and its essential purpose. We ask guests not to feed the cats, leave food scraps out, or open grills. Could you mention the presence of wildlife in the camp? Just because we have not had a recent sighting of bears, they are in the area. Unfortunately, one individual would always prefer to avoid reading the packet information and rules.
Our FamCamp management and ambassadors (staff) have a challenging and often unforgiving job. Yet, no matter what the issue, there is always someone dissatisfied. Our ambassadors see every family or individual during their visit. They are the Ambassadors of Tyndall FamCamp and deserve praise for their efforts. It can be challenging to keep a small community happy all at once. There will always be something out of place or in need of repair.
Overall, the FamCamp is an unpolished gem hidden on the edge of one of the most popular vacation areas, Panama Beach. With the right tools, leadership, and staff, this camp can be one of the most popular winter destinations.
There has been a 100% turnaround from our visit in 2022. The homestead tents, outdoor freezers, porch steps, and trash are gone. I am confident 2023-24 will bring even more improvements. We are planning on returning in 2024 if space is available.