It had been quite a few years since I was last at Nellis AFB near Las Vegas, NV. I haven't visited the Desert Eagle RV Park in over 10 years. I knew they recently expanded and lately there had been a few "not flattering" reviews. We were going to meet up with fellow RV'ing friends for a week and Nellis AFB was at the mid-point. We had originally planned to stay one night, then move to the Valley of Fire State Park nearby. We ended up staying at Desert Eagle RV Park for a week.
Although it was early November, it was still a tad warm for us. We were glad to have the electricity for Air Conditioning. But after a couple days, it cooled off enough to enjoy the day with just the windows open.
Getting to Desert Eagle RV Park was fairly easy, other than watching out for the traffic. The directions posted at www.MilitaryCampgrounds.us were perfect. We arrived on a Sunday without a reservation. Although the RV Park seemed about 90% full, we didn't have any problems getting a "Premium" RV site. Due to the heat, we decided to extend for a week and meet our friends here, instead of dry-camping in the hills near the Valley of Fire state park. Our originally met our friends, Bob and Joyce, through the Military Campgrounds and RV Parks website. They came to Arizona from Florida and camped with us in the Arizona desert over 10 years ago. Since then, we've periodically met up with them and have traveled together several times (including to Alaska).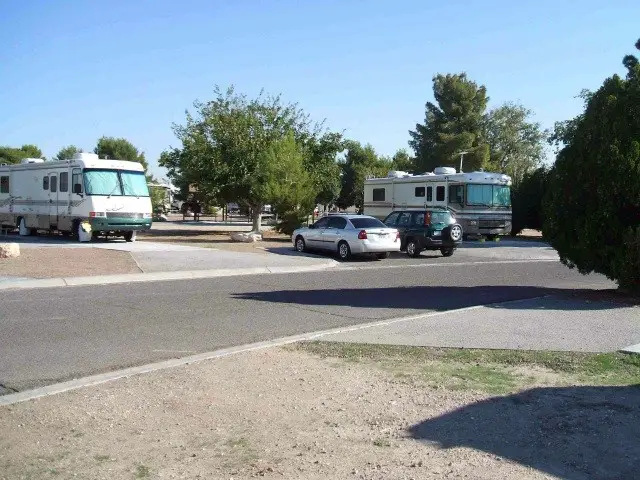 The updated Desert Eagle RV Park at Nellis AFB, NV now has 222 full hook-up RV sites, 4 RV sites with water and electric, and 6 tent sites. The "old" section of the RV Park is an old mobile-home park with large, shaded sites with mature trees. This area is known as the "premium" section has around 93 sites with a combination of pull-thru and back-in RV sites. The "new" area has full hook-up sites that are mostly pull-thru sites with around 25 back-in sites. These sites are fairly close together and don't have any shade. There's plants and trees planted, but they are too new to provide any shade. These new sites have concrete parking pads and patios, with desert rock separating the sites. While I'm sure you would get used to it, the sites are about 10 - 15 feet apart from each other. In comparison, the "premium" sites are huge, some being over 20 feet from your neighbor.
Although we originally had a large, pull-thru site in the premium section, we moved to a "wagon wheel" site. There's only 8 of these older full hook-up sites available. However, they did have some mature trees for shade and it was the only sites available for us to get our friends close to us. We ended up enjoying our little island to ourselves and were glad we didn't get one of the cramped "new" sites. The RV Park also has 4 partial sites available. These are also in the wagon wheel configuration with water and electric. They also have a small tent area with shade trees, grass, and tables. Although we only saw 4 tables, they advertise there's 6 tent sites. Finally, there have an "overflow" area with room for about a dozen RV's. These sites are back-in along the fence with no hook-ups. There's no table or yard. It's basically a place to park for the night.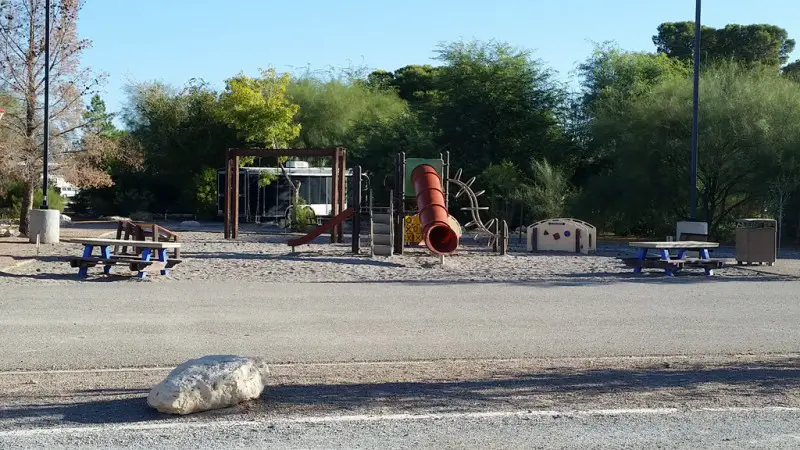 The RV Park also has a nice, new playground for the kids, horseshoes, bocce ball, a fenced and grassed dog run, a RV dump station, lots of long and short-term RV storage, a clubhouse/office and four laundry/restroom buildings. There's also free Wi-Fi available in most of the park. We tried the Wi-Fi, but had problems getting on. When we did get on, it was too slow for us to use. Two if the laundry/restrooms are new and are in great condition. Laundry was 75 cents a load for the washes and dryers. The restrooms and showers were very clean and in perfect order. The other two restrooms/laundry buildings are older, but were clean and in fairly good condition. The clubhouse had a laundry room, TV, a sitting area, and the office check-in counter. There was a TON of information available in the clubhouse on base and local activities.
When we arrived, there's a couple of marked RV parking lanes for checking-in immediately to the right. The office is just across the road on the left. Check-in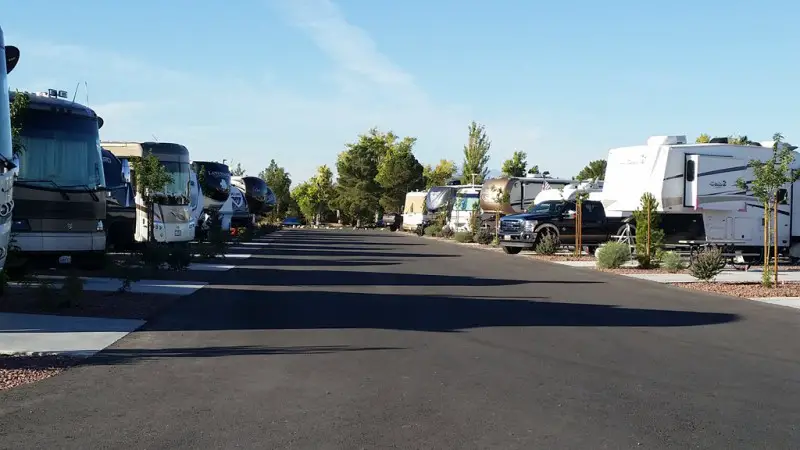 was easy, although the office staff seemed a bit confused on what sites were available. Maybe I had a new staff worker helping me. Since the RV Park is large, they have a staff member lead you to your RV site. We originally had a pull-thru site in the premium section. However, the staff member leading me to my site was originally having me enter my RV site from the wrong direction. He acted confused, stating this was my site. I took it upon myself to go around the block and enter from the correct direction, to have the patio on the passenger side and the hook-up son the drivers side. I was just surprised he didn't lead me to my site for the correct entry. The next day, I returned to office to extend and get two sites near each other. This went very smoothly, with them assigning us the two sites in the wheel configuration.
Nellis AFB itself is very nice. There's a large commissary and exchange complex. Gas is available on base, but no diesel. There's plenty of other activities, including a movie theater on the weekends. It's a busy base and is home to the US Air Force's Thunderbirds aerial demonstration team. Nellis AFB holds many "war games" in the nearby desert, so there's always a variety of aircraft to be seen from many different nations. During our stay, I don't if an exercise was going on, but the flight line was very busy. The flight path took most of the aircraft directly over the RV Park. While it did get noisy at times, it was fun watching the jets overhead.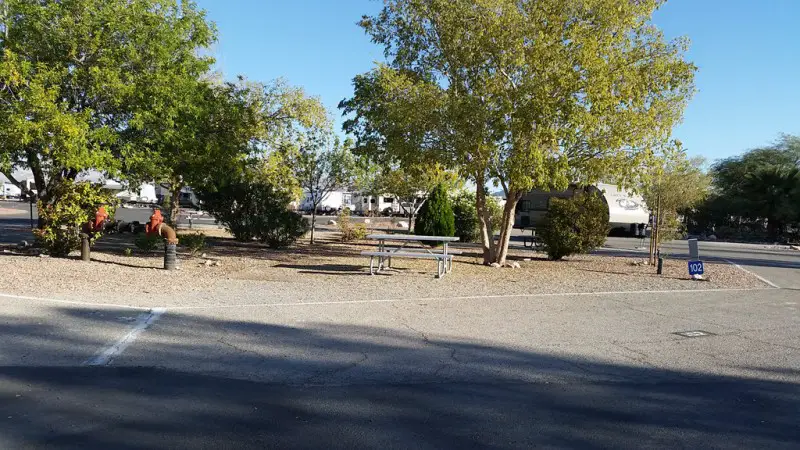 Currently, the pricing of $20 - $26 per site is fair and reasonable. The stay limit is also reasonable, allowing guests to stay 6 months then must leave for 30 days. We didn't see any severe indications of homesteaders. Firearms are not allowed in the RV Park and must be checked in with the base armory for storage.
We enjoyed our stay at Desert Eagle RV Park. We only went to the Vegas strip once, and that was enough. I'm not a fan of heavy traffic. When we're back in the area, we wouldn't hesitate to stay here again.
=====> Click here for full information, maps, photos, and videos of Desert Eagle RV Park.