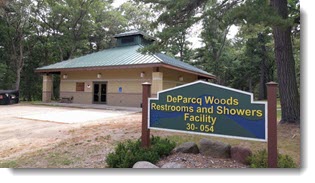 We tried to make reservations for July 21-26, 2019, but were told they were full, so we stayed at a local Corps of Engineers campground elsewhere. We visited this campground on July 26th and there were 10 sites available. Perhaps they were full on the weekend at the beginning of our requested reservation dates?
DeParcq Woods Campground is located on Camp Ripley, a nice Minnesota National Guard base near the city of Little Falls in the central part of the state. When we checked with the base lodging for information on the campground, the lady at the check-in counter seemed a bit confused on the campground. She couldn't answer any of our questions. She did refer me to the First Sergeant and he was very helpful. Once we had directions to where the campgound was located at, we were all set. I've updated the website with clear directions to the cmapground. However, you still need to go to the Education Center/Temporary Lodging (bldg 6-76) first to check-in.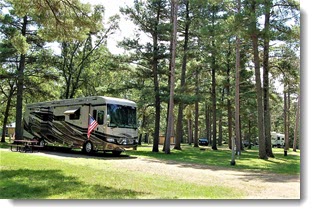 The campground is nice and quiet, located near the Mississippi River. The 15 RV sites are large and spaced apart pretty well for $17 a night. There's also 5 tent sites available for $7 a night. Even though the RV sites don't have sewer, they still call them "Full Hook-up" sites. There is a dump near the entrance to the campground. The RV sites do have water and 30.50amp electric. The restrooms and laundry room is new and were very clean.There's a playground and picnic pavillion nearby. The Mississippi River is behind the trees, across the street from the camping area. Cell phones work just fine here, but getting a satellite signal could be a challenge with the trees. Pets are allowed, but there's no designated pet area.
Camp Ripley has a wionderful military museum, with many armored vehicles on display that you can climb on. There's also a small exhange located on base. SHooping in town isn't too far away. MWR has lots of rentals available, including various boats. We would like to have stayed here, but the Corps of Engineer park we stayed at (with electric) was cheaper.

Information, maps, directions, and photos of Deparq Woods Campground can be found here.