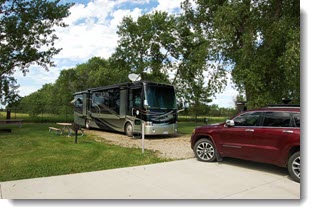 We visited Grand Forks AFB FamCamp in North Dakota in July, 2019. We enjoyed our 3-day visit to the base and FamCamp. Real relaxing and quiet. This is one extremely quiet base. We hardly saw any activity going on. What activity we did see involved a few RQ-4 Global Hawk "unmanned" aircraft. These drones are huge!
The Outdoor Rec staff were very nice and welcoming. They stated the FamCamp never gets full. Even if it did, there's plenty of overflow (dry) and tent spaces.The FamCamp has 21 RV sites with water, 20,30, 50amp electric, and sewer connections. During our visit, these full hook-up sites were $20 a night. The problem some of these sites have is the location of the utilities. A neighbor couldn't get his RV close enough to the electric, whch was located over 30' away on the rear of the site. He had to go purchase a 30amp extension cord. We had problems reaching the sewer connection, which was also far behind the site. We just moved the rig before we left to dump. Be aware of the placement of the hook-ups when you select your site. About half of the sites are under shade trees, but the other half of the sites are in full sun.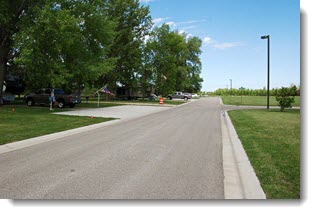 The FamCamp is located along the perimeter fence at the back of the base. The campground is well taken care of, although the restrooms and showers are getting old. Regardless, they were fairly clean. Laundry is available at the FamCamp with 2 washers for $1.50 and 2 dryers for $1. The exchange and commissary on base are smaller, but have a good variety. We went to the movies and was surprised to see the new movie (Lion King) was released that same day ($6).
Overall, a very nice visit and we will be back. We even told each other that we'd like to stay here for two weeks next time.

Information, maps, directions, and photos of Grand Forks AFB FamCamp can be found here.