Editors note: This article was written in March 2013 by DeAntha Wright-Thornburg and is used by permission.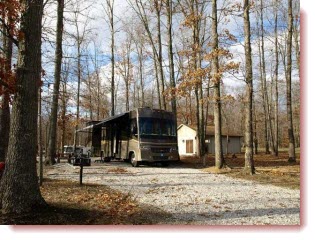 Beautiful State Park like surroundings..... but not made for larger RV units. There is a remote piece of heaven nestled between the trees at Arnold Air Force Base at Tullahoma, Tennessee. Located on Dogwood Ridge, this Fam Camp is somewhat primitive camping but the views of the lake and the sounds of nature all around make up its lacking of a few of the amenities some of us have come to expect at a military Fam Camps. There are no fancy paved streets to walk your dog. Nor are there security lights on every corner, nor is there a fancy laundry facility across from the clubhouse. There is no sewage at your camp site, no wifi, or cable TV. But there is a wonderful view from your RV of a beautiful lake, and an abundance of wildlife in the area to enjoy. They do have 30 or 50 electric AMP hookups at each site. They do have a beautiful sandy beach area for anyone to enjoy an afternoon in the sun. There is a covered pavilion for that family cookout. For that fisherman in the family there are boat rentals, pontoon, ski boats, kayak, & canoes. There are boat docks and launching pads at your campsites. They do offer Tennessee fishing license at the office. Tent camping is welcome and they do provide everything you might need, from your sleeping bags to a lanterns to camp for the weekend. This little piece of heaven is just right for an active family who loves to be outdoors.
Arnold Air Force Base Fam Camp is a weekend retreat for those desiring to get away from the city. The Fam Camp is a no frills type of camping. Not suited for the long term camper or large oversized Class A units that might exceed 34ft. They do invite extended stays up to 3 months is available. These amenities are totally opposite of many of the better known, military Fam Camps. Maneuvering through this wilderness maze of trees isn't an easy task. This camp isn't a place for any unit larger than 34ft. Nor is it designed for an inexperience driver. If you're 'NOT' an experience driver you can truly get caught between a 'tree' and a hard spot. There is no joke about this; the roads are covered with stone as are the campsites. There are narrow passages cut through the woods. It is one way in and one way out.
There are 16 pull thru sites, but don't expect to find one on a level hill top. Six of those pull thru sites are occupied by rentals. The remaining 10 sites are far from being a level. There are an additional eighteen tent sites for those whose desire is to 'ruff' it in the great outdoors. This Fam Camp is currently under renovation, and improvements are being made. But don't expect anything coming soon, as the military is about to crunch the funds to many of our Fam Camps. The staff is pleasant to work with but their lack of experience shows with their desire to accommodate their guest with their request.
Although it is evident by the freezer sitting outside a trailer unit that 'homesteading' is a problem everywhere in the system; even though the Air Force says it isn't allowed. Hopefully in the future the managers of our Military Fam Camps, will take an active role in the management of the campgrounds and we will see improvements everywhere. A very familiar comment surfaced in an interview during our visit with the current director. It was brought to the attention of the management that a freezer sitting next to a trailer site, the response was, 'As long as the site is paid for, I don't ask questions.' Wrong answer! If the items are on military properties it is part of the duties of personnel to step forward and be more proactive about the management and astatic of its grounds. I don't care if you're are just passing through or setting up for a months stay no one needs to have an extra freezer sitting outside the unit. What will we see next a washer and dryer on the porch? At this particular Fam Camp I had to ask for a copy of the rules of the campground.
Director Kiersten Warren continues to support her staff and make further improvement at the Fam Camp. Her staff works very hard to make everyone's stay at Arnold AFB Fam Camp an enjoyable one. Ms Warren has a very difficult job and with the military's budget crunch she will need all the support she can get. So if you visit Arnold Fam Camp be kind and pick up your trash and put it where it belongs. Don't spoil this beautiful park like setting, it's truly a piece of heaven. It should be noted, the Fam Camp directions and information needs to be up dated. The current address for Services Outdoor Rec, 4174 Westover Rd, Tullahoma, TN 37388… Phone: 931-454-6084 DSN 340—6084, Fax 931-454-3326. Fam Camp is located on Dogwood Ridge, north-west of the resignation office on Northshore Rd. Check in is at Building 3055, Outdoor Rec. It would be advised to call ahead and make reservations, and identify the size of your unit. If you continue to the office with your rig you might find yourself stuck. The space to turn around is very limited. Current Contact number for reservation is 931-454-6084.