Fort Knox Kentucky Has A Well Guarded Secret
Editors note: This article was written by Jim Twamley, www.rvtravel.com, and is used by permission. Although originally written in 2007, the details have been verified or changed to bring current to March, 2009.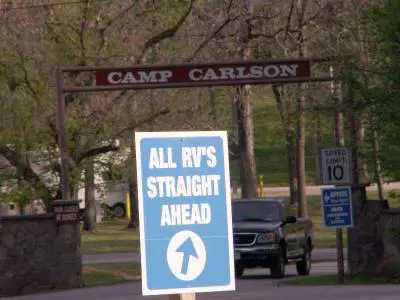 Camp Carlson is the Army campground serving Fort Knox, Kentucky. GPS coordinates are 37.90292, - 86.02491  Dianna Burnett has been the campground director since 1988 and has helped move the campground from marginal to magnificent.  There is a new section and an older section of the campground.  It has 35 sites with full hook-ups 20/30/50 and 18 sites that are 30 amp only, however there are two dump stations available.  There are 10 new family cabins, three group cabins that sleep 16 people each.
The big news is that they are completing a new multipurpose dining facility that overlooks the lake.  This new facility will be known as "Carson Hall" and will be finished in mid September (2007). This will be a great place for family reunions, parties, receptions and group meetings.  The new bath house is only 5 months old and is fabulous.  CO's and MWR Directors who are contemplating renovating or building new famcamp facilities, you need to look at this to see how it's done.  Camp Carlson set's the standard for a combined laundry, lounge and bath house.  The modern camp office is only two years old and also sets the standard for famcamp offices. The campground has five new playgrounds and renovated picnic areas. Camp Carlson Lake also offers fishing.  This campground also has free internet access. It's not open access, you must get a code upon registration and set up a temporary account. It's relatively fast and the price is right.
Camping fees are $15 water and electric only, $17 full hook-ups, $18 full hook-up pull-through. Visa & Master Card Accepted. Call (502) 24-4836 for more information or visit them on the web at Camp Carlson Campground .  All in all, Ft. Knox has a golden military campground! Speaking of gold, you'll receive a small discount if you have a Golden Age/Eagle/Access card.