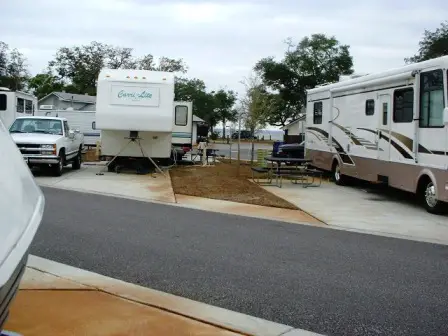 Although operated by Fort Benning, this military recretion area is located on the Choctawhatchee Bay in Destin, Florida (northern pan-handle). This is about 220 miles South of Fort Benning. We were staying at Eglin AFB FamCamp and decided to check out the Destin Army Infantry Center Recreation Area. We've updated the driving directions here to be a little more precise. Since our visit in early 2010, the price of the toll bridge has been increased to $3. But the toll bridge only applies if you're coming from the North. There's no military installation at this precise location, just the recreation area. However, the recretion area is still pretty secured.
This is a full fledged recreation area. They have RV sites, a hotel, and 1 to 3 bedroom villas to rent, as well as a marina, swimming pool, boat rentals, fishing pier, playground, charters, conference facility, and much more to do in the local area. Lodging rates are based on rank, with higher summer and lower winter rates. The 46 RV sites are now $19 - $22 per night and include a full hook-ups (with 30 and 50 amp electric), along with cable television and a phone hook-up. The host will provide the telephone jack upon request. There are lower long-term rates available.

The RV sites a located pretty close together. I estimated some sites only had about 6' between them. This can make maneuvering larger RV's a challenge. The road is paved and have concrete RV pads and patio. A picnic table is located at each site. We didn't look inside a rental apartment, but they looked in good condition (although older buildings). The apartments had a small patio with a table and BBQ. Unfortunately, the rental rates for villas and the hotel have almost doubled in the last few years. The check-in office staff were real friendly and helpful to us, although we were just visiting. There's a small store, an excercise room, and a comunity room with a television located there.
Free WiFI is also avaialable throughout the recreation area. Overall, this recreation area is getting high reviews from guests. Currently, they have a 4.5 star rating (5 is max). I can see this being a wonderful family get-away, creating many fond memories. About the only thing missing from this recreation area is a private beach. However, the USAF beach isn't too far away. There's plenty of other public beaches in the area, along with many tourist activities.