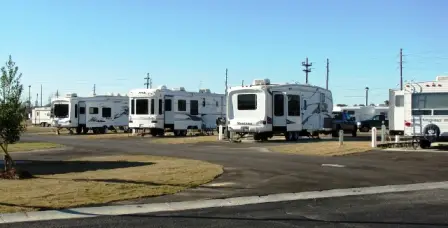 When I first started using and reporting on military campgrounds and RV Parks, I got confused. I was confused on "Shields RV Park". Well, it's easy to get confused - there's TWO of them and they are both operated by the Navy! There's the Shields RV Park in Corpus Christi, TX and the Shields RV Park in Gulfport, MS. I'm sure there's a reason the Navy has two military campgrounds with the same name. This report and in-depth review is about the Shields RV Park in Gulfport, MS, operated by the Gulfport Naval Construction Battalion Center. And to confuse things even further, this report is about the "new" RV Park located there.
We first visited Shields RV Park (MS) about 7 years ago. At that time, it was the "old" RV Park. There wasnt any room in the RV Park, but we were given overflow parking along the empty streets of an old mobile home park. Over the years, the old RV Park was removed to make room for additional base housing. In the long run, this tured out to be a good thing, as a new RV Park was built in the area where we stayed before. I was very curious to see what they did in creating this "new" Shields RV Park and we visited them in early 2010.
Finding the RV Park was easy, but the driving directions posted here were updated to be clearer. Entering the base gate is easy, as are all the turns into and inside the RV Park. This is strictly an RV Park. Tents are not allowed. All of the RV sites are very large and well spaced out, with full hookups including cable TV. There's paved streets, paved RV pads, and paved patios. Although there's no community room (yet), there is a centrally located office. We met with Cheri in the office, who was very friendly and helpful. I though it intersting that everyone working in the RV Park are employees, not volunteers or camp hosts. There are plans to install picnic pavillions and BBQ's in the RV Park. The new restrooms and showers were emaculately clean. The laundry room has six washers for $1 a load and 8 dryers for 75 cents.
We were told the base is considering closing the golf course on base and using that space to expand the RV Park. If this is true, this is very unusual. Obviously, the base commander recognizes that the RV Park has great revenue potential. The base itself isn't huge, but does have a medium size exchange commissary. There's also a movie theater (free movies), fitness center, swimming pool, gas station, auto skills center, a few places to eat, and a few other common facilities. Be sure to also visit the Seabee Museum while there.
While the prices for the RV Park are reasonable and there are good weekly and monthly rates, I wasn't thrilled to see that there's no stay limit. In my opinion, this nice, new RV Park may soon turn into another housing area with RV's. A "recreational" park should be kept as such - for recreation. Other than my concern for homesteading, this new Shields RV Park (in Gulfport, MS) is very nice and is a comfortable location to stay while visitng the area.