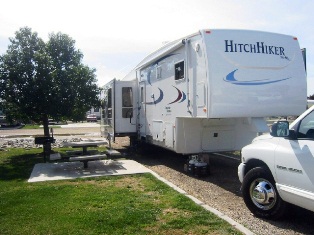 While in the area, we stopped by March ARB in California to check out the FamCamp. This campground is near completion of renovations and upgrades. The contract calls for construction to be completed by April 1st, 2012. During our visit in early March, it appered to us that construction was almost complete.
We followed the directions posted here to find the FamCamp without problems. Although, some road construction near the FamCamp made us go through a parking lot. RV's are to enter the base through the main gate. When approaching, you might question if there's any barriers that will make entrance difficult. There are none. The main gate entrance takes you around in a large loop before you actually get the gate. Large RV's will have no problems. After gettig theough the main gate, MWR requests that all campers stop at the Outdoor Recreation office FIRST to get your site assigned. They've requested that campers DO NOT go to the camgpround and occupy a site until after visiting Outdoor Recreation. The Outdoor Recreation office is located at Bldg# 434 located at 1870 Graeber Street. However, the roads are small and maneauvering a large RV in this area would be a challenge. There is a large parking lot a few buildings past the Outdoor Recreation office that would make it easier.
During our visit, half of the campground was still open and being used. Once the renovation is completed, there will be 20 back-in sites and 20 pull-thru sites. All 40 sites will have water, sewer, and 20/30/50amp electric. Unlike in the past, there won't be any overflow or dry-camping sites. The current rate of $15 a night is perfect, although they hinted the rates may go up a little. Some of the new back-in sites are all on asphalt, backing up grass in the rear. These are actually on the back edge of the parking lot next door. There's also a RV dump available, which is $5 for people not staying inthe FamCamp.

The FamCamp has a small community room with restrooms and showers (code needed), along with a laundry and small waiting area with a TV. The 3 washers and 3 dryers are $1 each. Free WiFi is also available throughout the FamCamp. There are a couple of large RV storage lots available. Many years ago, we stored our RV here for a month while we took an overseas vacation. In the past, it was known that local reservists had priority for the campground. With the campground expansion, this is no longer true. Reservations aren't accepted, so all sites are treated equally on a first-come basis. There's a two week stay limit, which can be extended 2 weeks at a time if nobody is on the waiting list. Currently, there's a 2 week rate of $196.
When the renovations are completed, this FamCamp will become more popular. The location is great for touring the Riverside and Los Angeles areas. The pricing is perfect for a military benefit. Without reservations being accepted, I just suggest calling ahead of time to see if space is available. Depending on your plans, you may also ask when a site will become available if you are placed on the "waiting list".