Fort Benning, Columbus, GA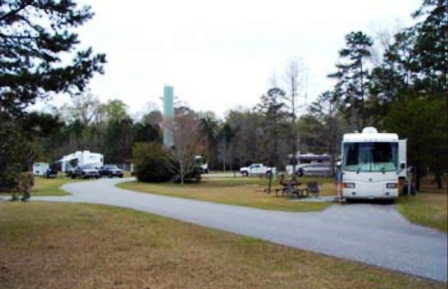 Uchee Creek Campground and Marina has been voted in the Campers Choice Award top 5 for the BEST Military Campground. We stayed a couple nights in February 2010 to visit, and to let a snow storm pass. We can see why it's a top rated military recreation facility. The directions finding the campground seemed confusing, but we found it. It seemed strange to enter Fort Benning, drive through the base, then leave Fort Benning out the other side to get to the campground. Uchee Creek campground isn't behind any security gates. Actually, there's an alternative way to get to the campground if approaching from the west side of Fort Benning - you don't need to got through Fort Benning. After our visit, I upgraded the driving directions to make them a little clearer.
Being winter, the place was pretty quiet with few campers. It had been snowing, with more snow coming in. But we can see this place being very busy in good weather, with plenty of activities. I could vision the very nice swimming pool full of families enjoying their camping vacation. I regret it now, but I didn't go check out the marina. Based on the condition of the other facilities, I bet the marina has plenty of water activities and boats for rent. I'd sure like to return here in nice weather.
The campground is fairly large, with over 80 RV sites. But they are not laid out in RV Park fashion. It's more of a "campground" atmosphere. With curved roads, plenty of trees, and with pleny of open space between camp sites. It's easy to have some privacy. The roads are paved, as are the parking pads. There's grass, bushes, and trees everywhere else. We asked for, and got a RV site where our satellite would work. I can see this being a problem in many of the sites. In addition to the campground, they have a large RV Rally area with room for 250 RV's. The activity center at the Rally area can sit 500 people.
There's also many rental cabins in excellent shape, many with air conditiong. They also have a large lodge with a kitchen for additional activities. The lodge can sit 150 people and is perfect for family reunions or other group activities.
Although Uchee Creek is called a campground, it rivals many of the recreation areas we've visited. There are TONS of activities available. An archery range, softball fields, swimming pool, basketball and volleyball courts, bicycle paths, fishing, boat rentals, the marina, and a camp store are just a few of the amenities I found. Unfortunately, the only WiFi Internet accvess available is a tad expensive at $9.50 a day.
We drove around Fort Benning and could have easily been lost. This installation is HUGE! The Exchange and Commissary are large and well stocked. There's all types of restaraunts available. I wanted to see parachute training going on, and we found the training towers. But no training was going on during our visit. There's shooting ranges all over the place.
If you're going to be in the Fort Benning area or are looking for a good location to have a family vacation, you won't regert making a visit to Uchee Creek Campground and Marina. Even the price of camping is still reasonable here.