Fort Hood, Kileen, TX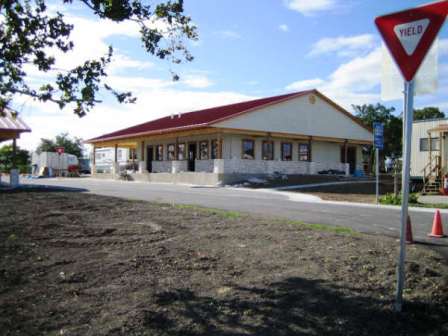 When we visited this travel camp in April 2010, I wasn't expecting much. I don't know why I had poor expectations. But I was pleasantly surpirsed on arrival. Fiinding the RV Park was no problems, but I've updated the driving directions to be a little clearer. During our visit, RV's were not allowed to enter the gate on the South side of the highway (the RV Park side), unless already cleared through inspection. We had to go to the inspection station on the North side of the highway first. Once
cleared through the commercial inspection station, you honk your horn to let the guards know you're going to the other gate and they call ahead. The gate on the South side of the highway is a short distance, just past the US-190 underpass. A little different getting through security, but it worked and was fairly quick.
We also went into the travel camp using the wrong entrance. It's the SECOND entrance to the RV Park. This will take you directly to the office for check-in. All of these instructions have now been posted in the driving directions.
There's two completely different sections in the RV Park. The new section was added in 2008. These RV sites are all pull-through, large, and spaced apart. They have a paved parking pad and patio, which includes a picninc table. There's grass and trees located between the sites. There's a strict 30-day stay limit in these new sites. The older section has all back-in sites. They are VERY close together (about 10' between RV's) with nothing between the sites. There's no room to put out your awning. Grass is behind the sites. There's no patio, BBQ, or picnic table. However, these sites have a 90 day stay limit, that can be extended with an approved "extension letter". The roads throught the RV Park are all paved.
All of the RV sites are FHU (with 30 and 50amp electric) and include cable TV. There's a new and modern bathroom/shower/laundry/lounge building. The facilities were very clean. Laundry included 4 washers at $1 and 4 dryers also at $1. The lounge has a big screen television and empty computer stations. However, during our visit, they didn't yet have any Internet connectivity. Long-term residents could order Internet privately. The RV Park does have a centrally located picnic and playground. There's also a RV storage lot, which was scheduled to be paved soon.
The Travel Camp has some strict restrictions on pets. Although they are allowed, there's an extensive list of "agressive" breeds of dogs that are not allowed. If in doubt, they suggest you call them to see if your breed of dog is allowed.
We only spent one night here and didn't see any of the base. However, I've heard Fort Hood is a very well equipped installation. If I understood a recent review, they will even have an "Applebees" restaurant on base soon. If passing through the area again, we won't hesitate to stay here again. As long as I know I'm getting into the new section. The old section may serve a purpose for long-term stays, but we prefer not being so close to our neighbors RV.