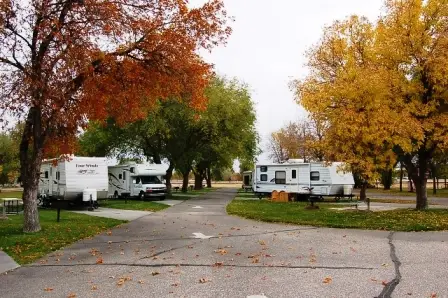 Mountain Home AFB is located near the city of Mountain Home, ID. During our brief visit in November 2010, there were plenty of RV sites available. We followed the driving directions posted here and didn't have any problems finding the FamCamp. The FamCamp is located in a quiet part of the base, but near some train tacks. However, I'm not sure the train tracks are used anymore. There's no campground office, but there is a self check-in station. There's a supply of envelopes to use and a box to accept your money and envelope. When you arrive, take any empty RV site then return to the self check-in. If you need to use a credit card, you can go to Bldg. 2800 to check-in. If you want to get your USAF Frequent Camper book stamped, the host is site #1 can stamp it for you, or you can go to Bldg. 2800. During our winter visit, there was no camp host on duty.
The campground has paved roads, with grass and trees between the RV sites. All of the sites has a concrete RV pad with a picnic table and BBQ at your site. During our visit, some of the sites had rental trailers in them. The FamCamp does have a dump, picnic pavilion, restrooms, showers, and a laundry. All appeared clean during our visit. There wasn't any signs of "homesteading", which could be due to the 14-day stay limit (and it was the beginning of winter). While "Big Rigs" can fit into many of the RV sites, it might be a small challenge maneuvering the turns in the campground.
Mountain Home AFB has all of the amenities you would expect ona large military installation. There's also plenty of recreational opportunities in the local area. For $14 a night, we though this was a good FamCamp at a fair price. Although a little ways off the Interstate, we'll gladly return to Mountain Home AFB FamCamp when in the area.