While staying at nearby Little Rock AFB FamCamp, during Thanksgiving week of 2009, we made a day trip to visit the Camp Robinson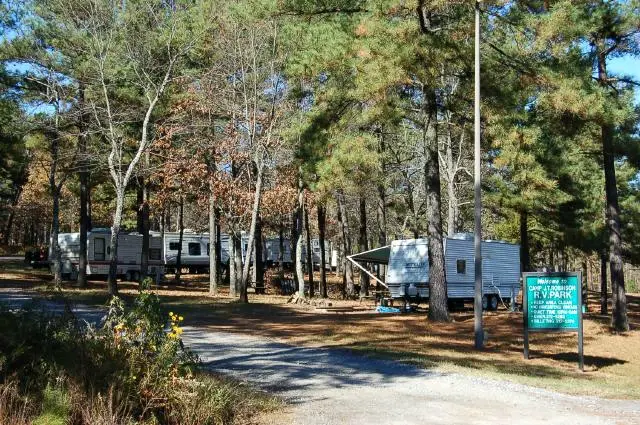 RV Park. While the GPS coordinates were correct, the directions provided were a little off. We've corrected them and what's posted now is exactly correct.
We found the small campground, which is located across the street of a small lake. Although not far from the main portion of the base, the RV Park is in a nice outdoor setting. Perhaps it was the time of year of our visit (Fall), but the RV Park was in need of a good cleanup. There were so many leaves on the ground, that some RV sites were completely hidden from view. However, the layout of the sites didn't help either. RV sites are not lined up nice and neat. Instead, they are facing all directions, some down a hill, and some in cul-de-sacs. Our first reaction to the campground was "trashy". This statement is probably a bit harsh.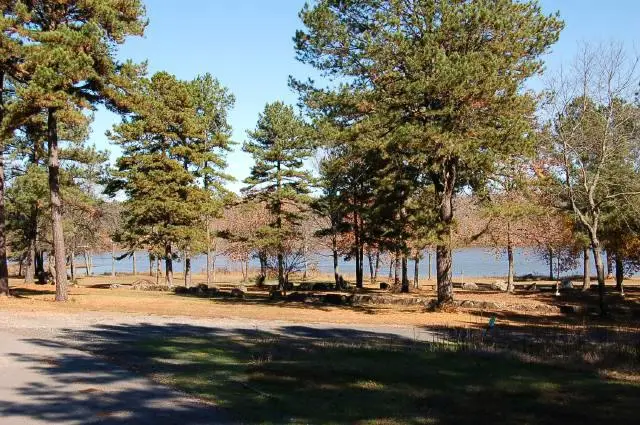 It appears everyone staying there are long-term residents. Many of the sites were cluttered. With the layout of the campground, you wouldn't want to try and park in some of the sites unless you were going to stay for awhile. Most didn't have easy access. The 16 full hook-up sites are on the side of a hill, overlooking the lake. The sites we saw had water, 20 and 50amp electric, and sewer. I thought it odd there wasn't a 30amp electric connection. I don't know if all the sites are like this, or if some do have 30amp. Based on the appearance of the RV Park, I would be concerned on the quality of the electric, or if it even worked at all sites.
During our visit, about 6 of the sites were unoccupied. There were some available sites along the campground road that would have been easier to back into. Since the sites are layed out in akward positions and located on the side of hill, I wouldn't classify this RV Park as "Big Rig Friendly". The RV Park has a gravel road with concrete parking pads. Most sites had a picnic table, and there are a few charcoal BBQ's spread out around the campground. While the check-in procedures state the electric boxes are locked, that didn't seem to be the case during our visit.
The RV Park

Typical FHU Site

Typical FHU Site
Camp Robinson is a small National Guard base. It's a combination of old and new buildings. We didn't see a commissary, exchange, or theater. There was good cell phone coverage. However, there could be difficulty finding a satellite signal at the RV Park, since it is located in many trees.
Although $7 is a fair price for this RV Park, don't expect a high-frill and fancy RV Park. For those wanting a low priced place to stay for awhile, this might be a good choice.