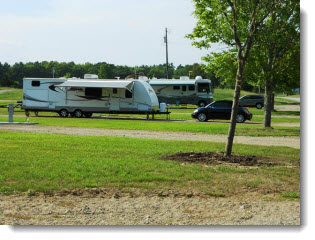 Great News! The USCG Cape Cod MWR RV Park just opened!
A website user notified me of a new RV Park at the U.S. Coast Guard Air Station at Cape Cod, MA. This new RV Park just opened July 15th and is located at the Massachusetts Military Reservation (MMR), Buzzards Bay, MA. It caught us by surpirse, as we weren't even aware it was being built. This small RV Park has 5 full hook-up sites for $25 a night. Currently, not tents or pop-ups are allowed - only hard sided RV's. Reservations are also required.
While I have most of the information listed on the website, please let me know of any corrections or additional information. I also only have the location of the check-in to the RV Park (Temporary Housting), but don't know the exact GPS coordinates of the RV Park. If you find them, please share them with us. Thanks Raymond for helping us provide the most CURRENT and COMPLETE information available on our U.S. Military Campgrounds and RV Parks.
You can find all known information about this new RV Park here.