In December 2009, we visited the MacDIall AFB Recreation Area (formerly known as "Raccoon Creek Recreation Area") in, Tampa Florida. Until this visit, we've always known this place as "Coon's Creek Recreation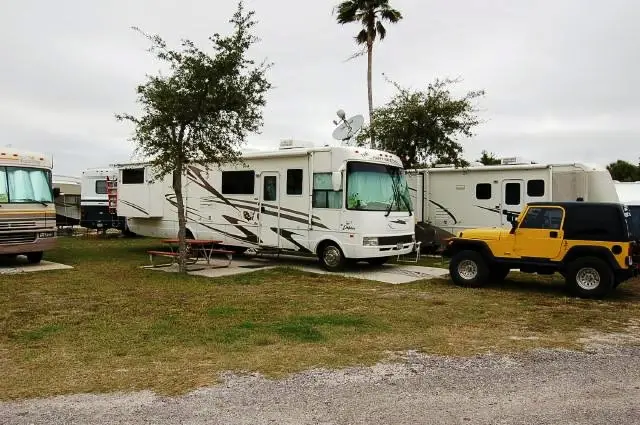 Area" (now changed again). I can understand the possible reasons the name was changed. This was out second visit here, the last being a few years ago. This is a large Recreation Area that is somewhat of a controversy. When talking with other military campers, you'll get a variety of opinions about MacDill AFB Recreation Area. During the winter months, this place fills up with winter "snowbirds" and is a destination location for many. Officially, reservations can be made up to 1 year in advance and you can stay up to 6 months. This is where the controversy comes into play.
There are 346 full hook-up RV sites available. Of these, over 200 can be reserved a year in advance. They remaining sites are available on a first-come first-served basis. They also state a "certain amount" of FHU sites are kept for short notice reservations and stays of less than 2 weeks. At least this is the way it supposed to work. Many people will tell you of horror stories in trying to get a reservation a year in advance. Even trying to get a reservation exactly 365 days in advance, many people are told they are already full. What? How can they "already be full" if reservations aren't taken more than 1 year in advance? It's possible, but hard to believe they are fully reserved exactly 365 days in advance for over 200 RV sites. Since we've always stayed a couple weeks or less, we haven't had this problem. Actually, for us, we've been fairly lucky. During this visit, we arrived without a reservation and were placed in a "dirt" site for 1 night. This wasn't bad, as we still had water and electric at the site. We were then moved to a FHU site for short-term stays. We stayed less than a week. Despite any controversy, there appears to be a rotation policy for some of the full hook-up sites. I'm sure it depends on when you arrive, if you'll need to go into a dry or partial hook-up site until you can move into a FHU site; unless you're lucky enough to get a long-term reservation in advance.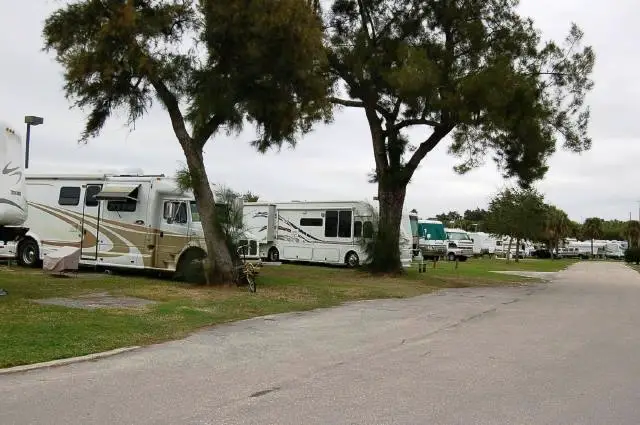 Being a large RV Park (there's also tent sites) you can expect all of the amenities. The FHU sites have cable TV and you can get phone service. There are all types of planned activities and tours. The Recreation Area has its own post office and guests can get a mail box of their own. WiFi is available at the adjoining marina. At the marina, there are all types of boats to rent and proane is available. Next to the marina is also a large white sand beach and picnicking area. There's also a small restaurant at the end of the campground, where many activities are held. The base is huge and has a well stocked Commissary and Base Exchange - just watch out for full parking lots. The campground is also located near a first-class golf course. The RV Park is grown to include an "annex" area around the corner with more RV sites. While some of the FHU sites are close together, others had plenty of space. The annex area doesn't have all of the amenities, but the sites are much larger than the main RV Park. I'm sure getting a reservation into the annex is even more difficult.
Getting to the Recreation Area can be a little confusing. Over the past year, we've heard of numerous changes to the rules on what gate to enter through. The first issue is getting to MacDill AFB. The base is located on a penisula on Tampa Bay. It's quite a few miles of driving through crowded city traffic to get to the base from the nearest interstate. Once at MacDill AFB, the normal rules are for RV's is to enter through the Dale Mabry gate (Main gate ONLY on Saturdays after 1000hrs and on Sunday. All other times, RV's are to enter through the Tanker Way gate (the truck gate). However, we tried to follow these rules and went to the Tanker Way gate on Friday. The guards there let us through, but stated we could use the Main gate instead. They had us drive through "by-pass" lanes and skip any inspection. Recently, we heard someone tried to use the main gate on a weekend and were told to go the truck gate. But I'm sure it's like many other things in the military and is simply a lack of communication. But this is only half the battle! Now you'll need to wind yourself across the base to the Recreation Area, which are a few miles away on the other side of the base. But that's where the beach is!
We enjoyed our visit at MacDill AFB Recreation Area. We met up with some friends who come here each year. The weather wasn't the greatest, but it was winter. Since we were leaving the base almost every day, we got tired of the long traffic drive from MacDill AFB to the highways. But our biggest complaint is how a New Year's party was held. A $5 New Year's party dinner was being served at the restaurant near the campground (The Tides?). It was to start at 1800hrs. We arrived at 1805hrs to find the place already full. It was a buffet line. Although there was still plenty of food, there was no place to sit. It was crowded! People who finished eating just sat around to visit, leaving no place for new diners to sit and eat. We didn't have a choice, but to get our food and return to the RV.
Raccoon Creek Recreation Area is probably a great place to spend your winters at. I'm sure it's even a better place to spend some time at in the summer. Those who return each year love it there. Those who have problems with getting reservations usually don't mind going someplace else. For us, we don't get to Florida very often. We've been there twice now and don't have any plans to return soon. But that doesn't mean we'll never be back. With the current rate of $16 a night for full hook-ups, it's a fair deal for the Tampa Bay area.