It had been almost 20 years since I last visited the U.S. Air Force Academy, and I had never been to their FamCamp. In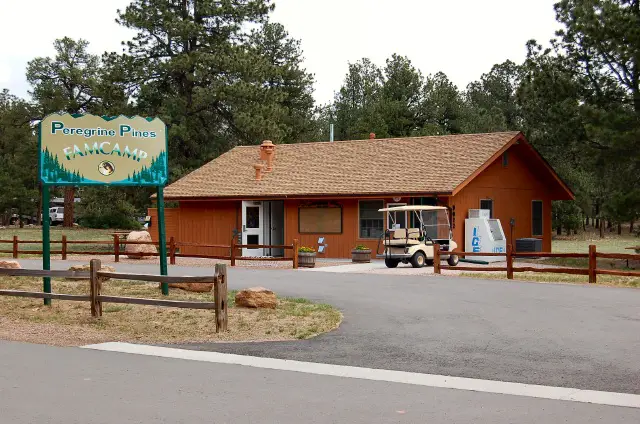 June, 2006, we made it back to the academy and stayed at the campground for a couple days. We attempted to follow the posted directions on this web site, but quickly discovered there were no street signs. Luckily, we easily found the campground. To prevent any future problems with visitors, the directions on this web site have been updated using landmarks to help guide the way. Since reservations are highly recommended, we felt lucky to get a site by just dropping in during busy season. But during our short stay, the campground never got full.
Our first impression was very good. It was busy, with two other RV's waiting in line before us. But we were quickly taken care of and escorted to our site. The 100+ RV sites are spread out and not arranged in any order or lined up. It made the campground feel more like a campground than a RV park. Because of the arrangement of sites, the escort was very welcomed to quickly find our site. Even if the park was full, this year they started allowing overflow, dry camping in a nearby field. We liked the campground feel to the place, with plenty of trees among the sites, but not too many trees to block satellite coverage. We greatly enjoyed the abundance of hummingbirds entertaining us all day.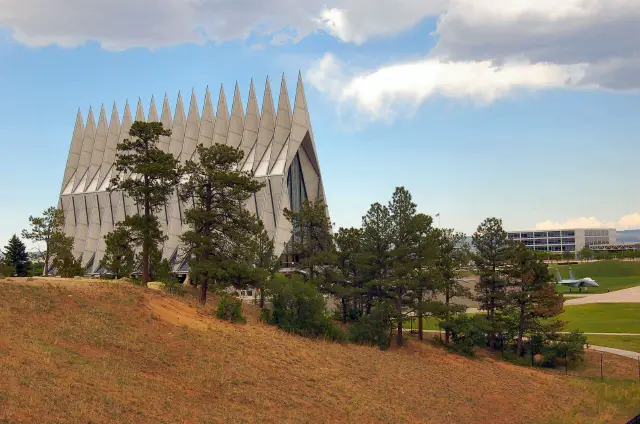 The sites are spread out, allowing plenty of space between them. In addition to the RV sites, there are 8 tent sites, and 1 Yurt for rent. A Yurt is a hard floored structure, with a tent side. There's electric in the Yurt, but no plumbing. Since the park is spread out over a large area, there's 2 bath and laundry houses. Some of the RV sites are pull-through and some back in. They're all on gravel with a gravel patio, picnic table, and BBQ. The campground is divided into two sections, probably an older and newer section. Although the only difference is the smaller section only has 30amp electric with water and sewer, while the larger section has water, sewer, and 30/50amp electric hook-ups.
Between the two laundry rooms and office, there are 11 dryers and 8 washing machines, each for $.75 a load. However, during our stay, 3 of the dryers were out of operation. There is a small recreation room with a few puzzles, books, and game tables. The camp office also sells a few RV supply items. They warn visitors of high water pressure and sell pressure regulators in the office, but we thought the water pressure was actually a little low. There is an Internet dial-up connection in the recreation room, but no WiFi. We thought it was cute that the campground has a "tiny tots" playground. Next to the campground is the Academy's large picnic area. There's plenty of pavillions, horseshoes, and volleyball courts available there.
In addition to the cadet area of the Academy, there is a commissary, exchange, and gas station. There's also plenty of hiking available. It's only an eight mile hike (one way) to the Academy's other campground, Farish Recreation Area. Of course, the cadet area is the highlight for tourists. I'm always impressed by the Academy chapel and huge pipe organ. Since we visited during summer, most of the cadets had left and the cadet grounds were fairly bare. It's more impressive to be there when it's active. The US Air Force Academy is located in Colorado Springs, with plenty of shops and restaurants nearby. There's also a ton of tourist attractions in the area. Garden of the Gods, Royal Gorge, Pikes Peak, and the city of Denver are within an hours drive. Although, highway construction slowed us down and was a headache.
We rated this campground with 4 stars. We liked the size of the sites and the clean, outdoor feel of the place. There's two aspects that prevented us from giving an excellent, 5-star rating. The trains! It's a pet peeve of ours that many campgrounds are located next to highways or train tracks. There's no exception here, as the train tracks go directly next to the campground. We'd be sitting there enjoying the pine smell, watching the birds, when all of a sudden a train horn blares! We couldn't figure out why they blow their horns at this point. It also bothered us after we went to bed for the night. The other issue that might be of a concern is the lack of WiFi Internet connections, or even a high-speed DSL connection. Regardless of these downfalls, we highly recommend Peregrine Pines FamCamp as good place to visit.