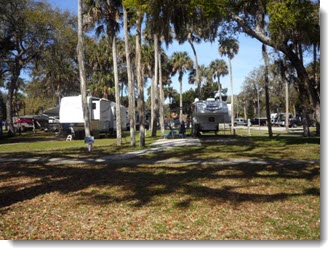 Although we couldn't stay at Osprey Cove RV Park, we visited the campground while staying nearby. Osprey Cove RV Park is the second RV Park located on Naval Station Mayport, Florida. Originally a mobile home park, it was converted into a long-term RV Park. Over the past years, it is no longer just for long-term stays. While this remains it's primary purpose, it's also an overflow RV Park for Pelican Roost RV Park, also located on Naval Station Mayport.
We followed the driving directions posted on the website, which took us directly to the Pelican Roost RV Park. This is where you check-in for both campgrounds. Form there, we continued following the directions to Osprey Cove RV Park, which takes you through a section of base housing. The RV Park is tucked away on a corner of housing. There's no beach or ocean views form the RV Park, but it's a short walk to the water.
All sites are full hook-ups, with 50amp electric. There's also cable TV at each site, but it's been reported that cable TV doesn't always work. Being an old mobile home park, it has an unusual layout. Most of the RV sites are back-in, with many of them requiring backing in over the sidewalk curb. Many of the sites are very long. The RV Park is full of palm trees and old oaks with lots of shade so you don't roast to death. These are large sites affording you privacy from your fellow RV'ers. There's not much maintenance being done in the RV Park, so guests need to take care of their own yard. The sidewalks are slowly falling apart.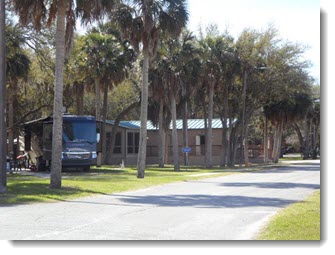 There's a central community building with a small office (not always manned), clean washrooms and showers, free laundry, and a small community room. May days, coffee is available in the morning. The clubhouse also has large a large TV, a large screened-in porch and a couple of outdoor barbecue grills. Free WI-FI is available at each site. Currently, the daily rates for retired military and civilians are $27 night in the low season (Apr 1 - Sep 30), and $29 a night during the high season (Oct 1 - May 31). Active duty rates are $2 less per night. They don't have weekly or monthly rates. Osprey Cove RV Park also has a few cabins available for rent, at a nightly rate of $68 for active duty and $70 for retired/civilian.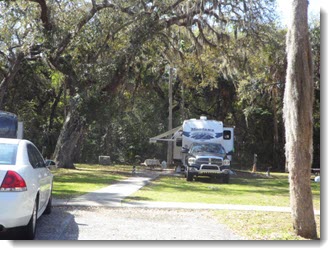 Mayport Naval Station is a major port for the Navy. This is a large installation and has all of the amenities expected. The golf course and a fantastic gymnasium complex, featuring an Olympic size pool, are just minutes away on base. The Commissary and Exchange are located off-base, not far from the main gate. Being on the coast in Florida, there's also many wonderful seafood stores and restaurants nearby.
Being a popular location, especially in the winter, reservations are highly recommended. This is a wonderful RV Park and we wouldn't hesitate staying here.