F.E. Warren AFB was my first assignment, almost 30 years ago. It was fun to return to the beginnings of my military
career and see how much the base has changed (or hasn't changed). We arrived on a beautiful, warm day in June 2006. Because of the directions on this web site, we knew to enter through the gate 2. But the directions from there on were a little vague. It had been over 25 years since we stayed in the FamCamp, but we knew which way to go. Since our visit, the directions on this web site have been updated to be clearer. If you arrive Mon - Fri, between 0600 and 1800, use the commercial gate on Missile Drive. It is MUCH easier to get to the campground, the gate is wider to get through, there's less turns, and no train tracks to cross. If you do enter through the main gate, FOLLOW the directions posted. If you don't, there are a couple of VERY LOW train bridges you'll run into before the campground.
Once we found the FamCamp, finding the office was even more of a challenge. We followed the signs pointing to way, which takes you around the campground. We arrived to a "T" in the dirt road and came upon the shower house. There weren't any signs telling us which way to go. There was a large brick building to the left, so we headed that way. Wrong choice. This is a temporary lodging building. We headed back to the shower house and there was the office! It's in the same building as the restrooms, but there's no sign telling you it's the office. Looking at the picture now, I guess it looks like an office. We arrived without reservations, but didn't have any problems getting a full hookup site.
Most sites are lined up in a few rows, with large trees between the rows. Although lined up, there's plenty of space between most sites to not feel crowded in. The site is all dirt and grass, with a charcoal BBQ and picnic table. Some sites will have morning shade, while others will have some evening shade. We enjoyed sitting under the large Oak trees, since it was pretty warm out. The tent sites are mixed in with many trees and there's plenty of room for dry camping in overflow. They have one large section marked off for overflow, but there's also over 7 acres of mowed grassland that they will also use for overflow, if needed.
Back at the office is the shower house/restrooms and a small laundry room. We saw 3 dryers and 2 washers, each costing $.75 a load. The office also had a small desk with a phone line available for dial-up Internet access. If you arrive after the office is closed, there's a self-serve drop box in front of the office. While some may consider the campground "rustic", I think this is mainly because there's no concrete pads or paved roads. Otherwise, the sites are in great shape, the grounds and facilities are well maintained. Although the campground is directly against active train tracks, it's very quiet. The trains move slowly through base and we never heard a train whistle, although we did see a few trains during a 3-day stay. Near the campground is a nature trail and an Indian Archeological Center. A short walk will also take you to the base's 2 museums. Both, the missile museum and Calvary museum are very interesting.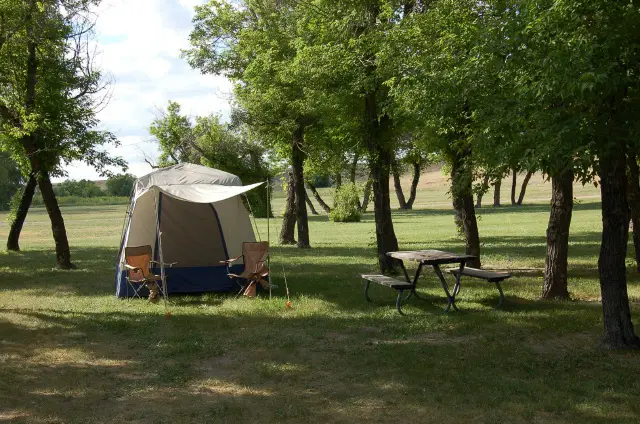 Most of F.E. Warren AFB is a National Historic Site, as it was previously Fort D.A. Russell during the Indian War years. The base has kept the look and design of the old calvary fort. Large, red brick buildings with white columns are all that exist, other than the housing areas. During my assignment here, I had the opportunity to visit the "General's" house. Impressive! Even junior officer's have old, but very nice housing. If you look carefully at many of the buildings lining the back roads, you'll see they are old stables. Complete with the hay loft pulleys. Many of the buildings have plaques explaining the history of that building.
The base also has a few lakes, that they keep stocked. But the fish weren't biting the evening we tried. A visit to the on-base cemetery will reveal many old graves, as well as some German POW prisoner graves. Being an Air Force Base, it's very noticeable for the lack of any fixed wing aircraft. We even rarely heard any of the few Huey chopper's they do have. This base is the home support base for many of our ICBM missile sites and silos. But it's a far cry from when we had the Minuteman III missiles on 24 hour alert during the cold-war. Now days, the base almost seemed abandoned, as there was hardly any activity at all. What was once the 90th Strategic Missile Wing is now the 90th Space Wing. It was also a bit sad to see our old base house had been removed. Actually, the entire housing area we lived in is now gone. Just some barren roads surrounded by grassy fields are there now. But they base does have a new Exchange and commissary, as well as all other amenities you'll find on an active base. The gas was even a few cents cheaper than off-base.
We rated this campground with 3 stars. It's a nice, quiet campground without any frills. We liked the serenity of the location. It's a nice place to stop and relax. Cheyenne, WY is a nice town to visit while here. However, unless you have a specific reason to be in Cheyenne, there's not too much to do in town. A few parks, a couple museums, and (of course) the large Frontier Days Rodeo held the beginning of August. While not well known, you can catch a HOP pretty easily to California on a C-130 with the WY Air National Guard at the Cheyenne airport.