In March of 2006, we spent a week at Laughlin AFB FamCamp, TX. We arrived without reservations on a Saturday afternoon. We didn't have any problems finding Laughlin AFB, as there are plenty of road signs pointing towards the base. It's located about 5 miles east of Del Rio, TX directly on US Hwy 90. We used the main gate, which is open 24 hrs. There is a west gate, but it's closed on weekends and we don't know if a large RV could fit through the trap. The main gate did have a small obstacle course of concrete barriers, but they are placed far enough apart for a 40' rig to slowly navigate through, even with our tow vehicle still attached. The gate guards were pleasant and provided directions to the famcamp. Getting to the famcamp from the main gate is real simple. Just keep going straight through the main gate to the end of the road. You'll drive right into the famcamp.
Upon arriving, we read the sign that said to check-in with the camp host on weekends. Even though the camp host was gone, they had left a note on their door telling newcomers what to do. If you had a reservation, go directly to your site. If you didn't have a reservation (like us), take any open site from 1 through 10. Sites 2 through 20 are for those guests who have reservations. We were lucky, as there were a few open sites for us to choose from. An hour later, the camp host showed up. Since we were staying through the weekend and wanted to pay by credit card, he had us wait until Monday to pay at the Outdoor Recreation office. We don't know how it would have been handled it if we still wanted to pay by credit card, but would be leaving before Monday morning. Joe, the camp host was very friendly and talkative. When he came to us, he was prepared with a base paper and other local information.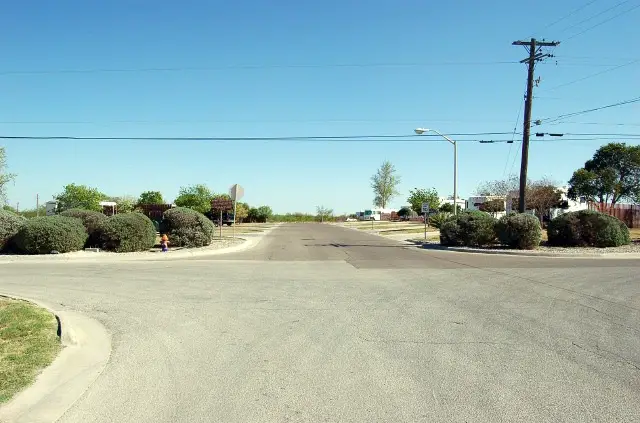 Our first impression of the sites was WOW! All of the 20 sites are about 100' long pull-through sites on concrete pads with asphalt drives, spaced far apart, with a 8' high privacy fence between sites. They all are complete with W/20A,30A, and 50A E/S and CATV. There's even phone hookups if you were staying long enough to get it hooked up. Each site also has a metal picnic table and BBQ stand on a concrete patio. Between sites is grass with bushes and trees along the privacy fence. To say the least, these are very nice RV sites. The downside is there are only 20 sites with no tent camping and no overflow. They don't allow dry camping, even though there's plenty of open space around the campground. We're told they used to allow it, but the base commander didn't like it. So if these 20 RV sites are full, you'll have to move on to some place else (Laughlin AFB Marina/Campground is only 20 miles away). During our 7 days stay, the reserved sites got full, and the non-reserved sites got full only 1 night.
The famcamp is at the end of the main road on base. Even though the Exchange is across the street, the weekend was extremely quiet. The other side of the famcamp is undeveloped land, with the base park and playground on one side, and an empty grass field on the other. This empty grass field was where overflow was allowed, as it was also once a mobile home park. Rumor had it, that they may expand the famcamp using this field (since utilities are already in). Otherwise, the end of the grass field serves as a used RV sales lot (there were 3 trailers parked there).
Laughlin AFB, TX is fairly small. Their mission is USAF Undergraduate Pilot Training. This is the first flight training new pilots get. Although the weekend was like a ghost town, the base came alive Monday morning at 0700. Reveille was played pretty loud on the base speakers and flight training resumed. The flight line and runway isn't far from the famcamp, so there was a constant buzz of T-1's, T-6's, and T-38's flying all day until around 2200. The National Anthem is also piped around the base at noon, with taps played at 2200. We accept these minor sound annoyance's, as we ARE on a military base.
As with most bases, it's well equipped with a large variety of facilities for our use. The commissary and exchange are of a small/medium size, with the Class VI also being located in the exchange. The gas station is small, but we were able to fit our 36' motor home in without problems. The gas station also serves as the shoppette, with DVD rentals available. Also on base is an active community center with many table games (pool, tennis, etc) and a large screen TV. There's a new fitness center and Olympic size pool for lap swimming only. There's bowling, golf, woodworking, and auto crafts. There's also a few places on base for dining, although we couldn't order a pizza on Saturday night. It seems their "Club XL" is only open for dinner on Thursday and Friday evenings. The cable TV provided at each site has over 65 channels available.
The famcamp has their own laundry facilities, but they're not located at the famcamp. You check out the key for 3 hours from the camp host. The laundry room is about 5 blocks away, near temporary lodging. There's 2 washes and 2 dryers available. But they are all FREE! The famcamp doesn't have their own recreation center or organized activities. You're encouraged to use the community center.
Laughlin AFB is near Del Rio, TX, which is host to the Whitehead Memorial Museum and the Val Verde Winery. About 35 miles away is historic Fort Clark and Alamo Village, an active movie location and the site of John Wayne's Alamo movie. Judge Roy Beans' Saloon and home is 60 miles north, in the small town of Langtry, TX.
We rated this campground with 4 stars. In our opinion, the slight noise annoyance, laundry facilities being away from the famcamp, only 20 RV sites, no overflow area, and pizza parlor closed on Saturday nights prevented us from giving this campground a higher rating. We still enjoyed this campground and would definitely return if in the area.