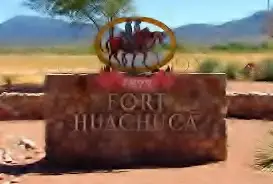 Over the years, we've tried a few times to stay at Fort Huachuca in Arizona. But getting into Apache Flats Resort during the winter months without a reservation is almost impossible. But this year, we lucked out! Without reservations, we called in early March to see if we could get a couple sites arriving the next day. We were traveling with a retired Army couple. We were surprised that we were told "yes", that there were two sites available for a couple days. We took them! When we arrived, Brenda (office staff) was able to extend us for an 8-day stay.
The major units at Fort Huachuca are the United States Army Network Enterprise Technology Command (NETCOM) and the United States Army Intelligence Center. The installation was founded in 1877 to counter the Chiricahua Apache threat and secure the border with Mexico. There's plenty of the historical buildings on post. There's two museums on post located in three buildings. The main museum occupies two buildings and tells the story of Ft Huachuca and the US Army in the American Southwest, with special emphasis on the Buffalo Soldiers and the Apache War. There's also a wonderful display of drones used by the Army. The second museum is The US Army Intelligence Museum. This Museum's emphasis is on U.S. Army (not civilian or other agency) military intelligence history and includes displays of the organizational development of the Army intelligence specialty. I greatly enjoyed the historical and drone museum. Unfortunately, the Military Intelligence museum was closed for the day when we went to it.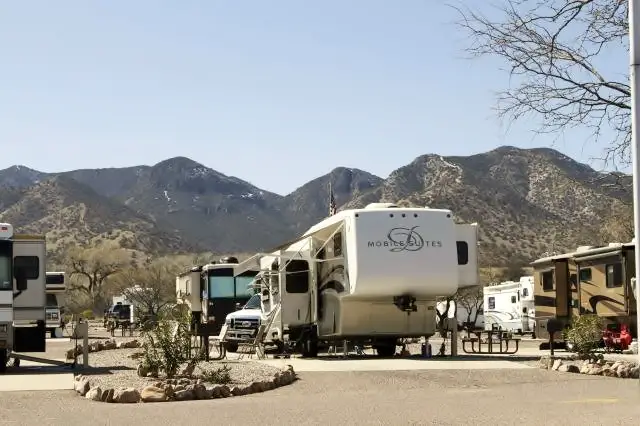 Over the past 11 years, we've learned of other camping opportunities at Fort Huachuca. There's the popular Apache Flats Resort. This is a busy RV Park in the winter and reservations are pretty much required. There's 56 FHU RV sites here, with restrooms, showers, laundry, free WiFi and a community room. The WiFi was some of the best, and fastest, we've ever had at an RV Park. But we were also located near the office. Almost all sites are pull-through and are spaced well apart. RV Sites are $22-$24 a night, with weekly and monthly rates available. There's a few dog running areas and hiking trails from the park. Finding the RV Park could be a challenge, but not if you follow the directions on the U.S. Military Campgrounds and RV Parks website. Years ago, we learned of a second RV Park located at Fort Huachuca. This is one of those "secret" military campgrounds I talk about. A campground that isn't advertised or well known. The Garden Canyon RV Park is operated by the Sportsman's Club. Some refer to it as the "overflow" RV Park. However, it's located on the other side of the post and not operated by MWR. This RV Park has 12 water and 30 amp electric sites, but no sewer or dump station. Sites are only $10-$12 per night. In addition to these two RV Parks, there's also several remote, rustic, scenic camping sites. These are located mainly in the various hills and ranges of the post. Many are free, others are only $3 a night. You'll need to get a permit to use these remote sites, which you get from Range Control.
=====> Click here for information, maps, photos, and more on Apache Flats Resort.
=====> Click here for information, maps, photos, and more on Garden Canyon RV Park.
=====> Click here for information, maps, photos, and more on Fort Huachuca Remote Camping.
=====> Click here for a 360 degree video on Apache Flats Resort.
=====> Click here for a 360 degree video on Garden Canyon RV Park.