As I write this review, it's early March 2019 and I'm enjoying a beautiful sunny day with a view of the rugged Organ Mountains and listening to doves cooing. Visiting Volunteer Park Travel Campsites is a pleasant surprise. This military campground is a hidden jewel.
Posted directions got us directly to the campground, but the check-in office had changed locations since we were last here 11 years ago. I asked a neighbor who told me to check-in at the Outdoor Recreation office. This is about 3 blocks from the campground, across a field from the campground. Once parked in your RV site, look straight ahead (a bit to the right) and you'll see a RV storage lot located across the grass field. Outdoor Recreation is next door to this storage lot. You can drive there, or it's an easy walk across the field. I've updated the driving instructions to include the check-in location. Getting through the main gate was hassle free.
The campground is located on the main base of White Sands Missile Range, just over the Organ Mountains (hills) from Las Cruces, NM. This is dry, brown, desert country. But with it's own "rugged" beauty. There's only 8 full hook-up RV sites. All of them are about 100' long pull-thru sites. There's also 4 "overflow" sites with electric only. When extremely busy with a group rally (only a few times a year), they double up the sites and can park more across the street with electric hook-ups. They can fit about 30 rigs in for groups. The RV sites have gravel pads, with dirt/grass between them. Each site has a covered concrete patio with picnic table and BBQ grill. We had good 50amp electric, with a 30amp also available.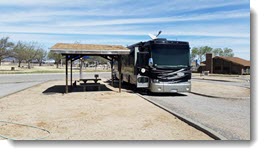 This is a simple campground with the basics. There are restrooms with a shower (one men's, one women's). These are a tad old, but were clean during our visit. Next to the campground is a large picnic area and pavilion and a large children's playground. The restroom building also has a large community room, but was locked. It appears this meeting room can be used by groups. There's also another covered picnic/BBQ area at the other end of the building with what appears to have been a snack bar. Perhaps this area can also be used by groups or is used on special occasions.
White Sands Missile Range is a busy base with mostly civilian contractors. The Commissary and Exchange are mid-sized. There's plenty of hobby shops, dining, churches, a theater, gas station, laundromat, and a museum. The museum is interesting, with a special section on the V-2 rockets brought here after World War II for testing (and copying). You're allowed to drive out on the range to the original bunker and V-2 launch pad.
Our greatest pleasure was the peace and quiet. There's no highways or trains. The campground is at the base of the Organ Mountains with wonderful views and beautiful sunsets. As I mentioned earlier, there was a flock of doves hanging around. That was about the only noise we heard. The current rate of $10 for a FHU site is a fair rate for a military benefit. Whenever we're in this area, you bet we'll stop by for some Rest & Relaxation.