After spending a few weeks in the wind, with mostly overcast days, it was a welcomed to sight to arrive at Vandenberg AFB FamCamp to sunny and bright skies (although still cool). But it was March 2007, and most of the nation was much worse than we were. We didn't have any problems finding the campground and the directions have been "tweaked" a bit. Check-in went smoothly with a cheerful employee. The campground was only about 1/3 occupied, so we took a grassy pull-thru site.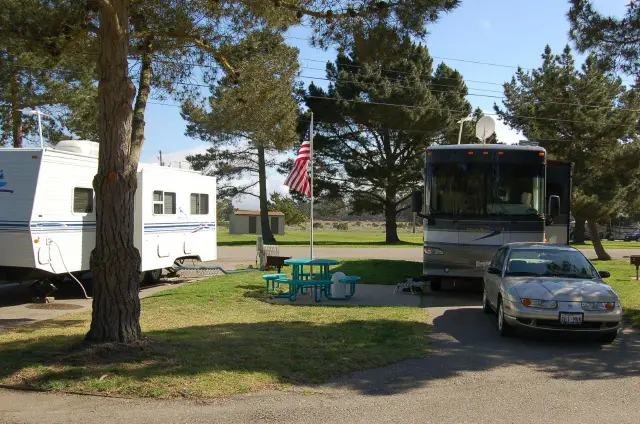 Typical FHU Pull-Thru RV Site
What surprised us the most during our drive to the campground were the ground squirrels! There are literally hundreds (thousands?) of them in the fields along the road. I'd almost call it an infestation. During our week stay, we also saw a pair of young Coyote's cross the grassy field in front of us, a few deer run by within a few feet of our motor home, and a slew of birds (including Heron and Hawks). It became a morning ritual to be woken by singing birds out our window.
Besides the large, fenced in tent area and the large, open overflow area, there are two types of FHU RV sites. We took a pull-thru site, which is a couple dollars more per night. But these sites have a space of grass between sites, with a picnic table and BBQ on a concrete patio. The sites are paved, as are all of the roads in the campground. There are mature trees almost on every site, with the sites facing a field/forest. These sites have water, sewer, and 20amp/50amp connections. These types of sites make up about 33% of the campground. The remaining 67% of the RV sites are divided into two large "parking lots". These are back-in sites, with about 15' wide sites. The entire lot is paved. They also have water, sewer, and 20amp/50amp electric. There aren't any sites that have 30amp electric. So if that's all you can use, you'll need an adapter, or buy one from the office. The overflow area is across the street with 19 marked RV sites, but room for 40 RV's.
The campground has two lounge areas. By the looks of them, one could be referred to as the "old" lounge and the other the "new" lounge. The old lounge has couches, puzzles, and game tables. There are also restrooms and showers inside, along with a small laundry room. There are 2 washers (50 cents) and 2 dryers ($1) here, although one of the dryers was broke. The new lounge also has chairs and couches, but also a large screen TV. There are a couple computer desks with phone outlets. There are also new showers and showers here, and a large laundry room. We were surprised to only see another 2 washers and dryers here, as there's room for 4 or 6 of each. The check-in office is also part of this building.
| | |
| --- | --- |
| | |
| The RV Park | Tent Area |
| | |
| Overflow Area | The New Lounge |
During our stay (March 2007), there was no Internet access in the campground, other than the two phone connections. The office staff said they were expecting WiFi to be installed that week, but we all know "government work". WiFi is probably working in the campground by the time I post this review. The Base Exchange has a "Free WiFi Internet Zone" in the food court. The library also has computers you can use.
The campgrounds posted length of stay policy was a bit confusing, and I was told their in the process of revising the policy. For now, I was told there's a 14 day stay limit that can be extended 14 days at a time, as long as the campground wasn't 90% occupied. There is a total 120 days stay limit for military, and a 30 day stay limit for DOD and civilians.
They make a few exceptions for military personnel on TDY or who are PCS'ing. My neighbor in the park had been there 3 months with medical appointments. However, they have the right attitude and treat the campground as intended. They have a strict policy that if you work on Vandenberg AFB or nearby, you can only extend your stay once. This campground is for "recreational" use only. Good for them!
Our biggest surprise was there are two other small campgrounds ran by Vandenberg AFB within 5 miles of the FamCamp. Both are small, semi-remote, and rustic campgrounds mainly for tents and small campers. Information on these campgrounds has been added to the "list". We were disappointed to hear that MWR here won't carry the USAF Frequent Camper Program kits. They'll honor the coupons and stamp your book, but they refuse to sell the new member kits.
There's plenty to do in the area. Many historic Missions are nearby, Buellton (good pea soup), the Danish tourist community of Solvang, Santa Maria, and the cold Pacific Ocean. The base also has all of the expected facilities. If you're lucky, you might get to see a missile or rocket launch during your stay. Without any aircraft, the campground is very quiet.