In March, 2007, we planned to spend a week at Point Mugu RV Park, but ended up spending three. Not because the park is that great, although there's nothing wrong with it, but we had to wait for parts for the motorhome. We didn't have any problems finding the park, but have updated the driving directions to be a bit clearer. When we arrived, the sign pointed to turn left in front of the Beach Hotel for the RV Park. THIS IS WRONG. The RV Park is behind the Beach Hotel, so don't turn left as the sign points. With a large rig, it was a bit difficult to turn around. I suggest pulling off in a large lot next to the Beach Hotel to go check in. This leaves you facing in the correct direction to go to your RV site.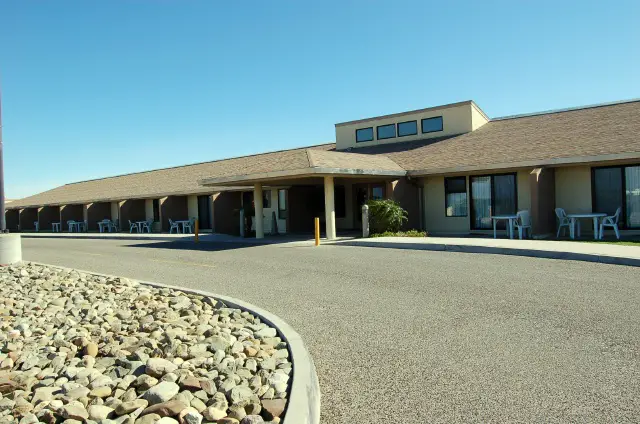 Check-in Office
While most of the RV Sites are behind the hotel, the tent sites and 10 RV sites are down the road. The tent sites are spread out over beach and have BBQ pits, with a few picnic tables spread out. The tent area is very run down and needs upgrading. Many of the tables are broke and BBQ's are knocked over. Across the street from the tent sites are 10 FHU RV sites lined up. These sites are pretty close together in parking lot style. They all are 50amp electric, with no 20 or 30amp electric, but do have water and sewer hookups. These sites are along the beach, with a high water break/sand dune between the sites and the beach. Unfortunately, these are back-in sites. A motorhome would be facing AWAY from the beach. There is a shower house here also.
The majority of the RV sites are grouped near the Beach Hotel. There are also a couple shower houses here. These are clean and modern. The RV sites are a mixed bunch of 30amp electric and 50amp electric site with water, sewer, and cable TV. These sites don't have a 20amp circuit, and are either 30 or 50amp, not both. While some of the sites have fair views of the beach, others back up against the engine test center. It gets pretty load during the day. These sites are paved and wide, with all of them having a picnic table. Fire rings are spread out among the campsites. Your patio is also for parking your car. The roads are paved and there's sand (shells) between sites. These 61 RV sites consist of a wide variety of sizes. If you have a big rig, even with a reservation you take your chances that there will be a site large enough for you. Reservations don't guarantee you a specific site. Most sites are 29' long, with a couple dozen 36' long, and only a few that are 45' long. Some sites are only 18' wide, while others are 24' wide.
The RV Park itself doesn't have any amenities. However, since it's controlled by the hotel, the hotel facilities can be used. This includes a small lounge with TV, although it's not private. There's also a couple computer desks, but no dial-up. There is WiFi Internet, that I found to be unreliable. Even sitting in the lounge, the wireless signal would suddenly drop the connection. On the southern end of the hotel is a small laundry. The hotel/RV Park check-in desk sells a small variety of snacks and RV adapters. During my three week stay, I needed to keep extending our stay. I encountered a wide variety of personalities from the office staff. From very helpful and cheery, to the feeling I was disturbing them from watching their TV.
| | |
| --- | --- |
| | |
| Typical Full Hook-up RV Sites | The RV Park |
| | |
| Tent Area | The Lounge Area |
They strictly stay with their policy of a 30 day stay limit, then 7 days out before you can return. Of course, you can repeat this routine all year, and some do. I met a family who is stationed here, "living" in the RV Park, and they move every 30 days to nearby Fairways RV Park for 7 days. Then return here and start the routine over. The manager's attitude is that "this is a RECREATION area". We enjoyed our stay here, although the wind from the ocean never seemed to stop. As I said earlier, this military campground is nice, but nothing fancy. I do think it's a bit overpriced for a 'benefit'.