We stopped to visit Desert Eagle RV Park in late October, 2006. We knew we would be taking a chance of arriving without reservations, especially since the winter "snowbirds" were starting to migrate. I guess we might be considered part of this group now. But we were willing to take the chance, even if it meant staying in overflow for our visit. Since we came into the area from the Northeast, we didn't follow the directions that were posted here. We did make one wrong turn into Nellis AFB and went around the block. I've updated the directions posted here to be more concise, and cover coming to the campground from the North or South.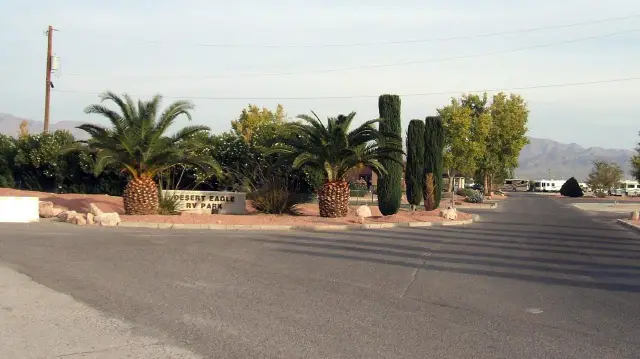 Campground Entrance
Our first impression was a "wow" factor. This campground was on the larger end of military campgrounds, and seemed to be very active. Construction was going on near the dump, which I later found out was a new area for arriving RV's to park and for real late arrivals to park for the night. Once inside the office, the next thing I noticed was there were plenty of workers! Unlike other military campgrounds we've been to recently, this one was fully staffed. I counted at least 6 workers, and that was while I was standing at the check-in counter. Of course, the hook-up sites were all booked, so I accepted a dry camping site. They have a system of escorting you to your site. While waiting for my escort, the counter received a cancellation for a partial hook-up site which they offered to me. So we got a W/E site for our 2 night visit.
The large campground is divided into two sections. The "old" section consists of 6 circles made for 4 RV's per circle with water and electric. However, to help accommodate more guests, they've made each circle now accommodate 8 RV's, sharing a dual spigot water faucet, and a single 20,30,50A electrical box. This is a fair compromise to get 24 more RV's in with partial hook-ups. Unfortunately, it doesn't always work out perfect for the RV's sharing services. In our case, the first RV there was hooked up to the 30Amp service and they were right next to the electrical box. So we had a long run to electric, with a choice of 20Amps or 50Amps. This would have been fine, but I don't carry a 100' 50Amp extension cord, or a 30A to 50A adapter (I do now). I do carry a 30Amp extension, so the adapter (I now have) will work in the future to get me 50Amps through the 30Amp extension. Of course, I'll be careful on my electrical loads to insure I don't exceed drawing 30Amps. Our only other option was to use the 20Amp circuit. Since the weather was mild, this was fine; 20Amps was all we needed. But we would have been just as well off, and saved some money, if I stayed with the dry camping site. These circles, made of decorative rock and plants, have 4 picnic tables and 4 charcoal BBQ's, which are shared. The RV's park on the asphalt street. Tow vehicle, or toad parking is usually across the street from your site. All of these sites are pull-thru, or drive up. I can see fifth wheels having some problems, especially when wanting to pull out. Another RV may be in front of the 5W, making it difficult to hook-up. But this shared circle method is working, so there's probably not many problems.
| | |
| --- | --- |
| | |
| Office, Kitchen and Lounge. Laundry in back. | Kitchen and Lounge |
The other section, referred to as the "new" section is a converted mobile home park. Unlike many other mobile home park conversions we've seen, this one was great. Usually, conversions have the utilities all over the place, far from the RV site, and usually on the wrong side. Not so here; they did it right. There's 99 FHU sites configured in 4 large circles. This arrangement makes these sites HUGE! While there are some smaller sites, some are over 4 times the size of a normal RV site. These sites are mostly back-in sites, with a quite a few pull-thru. They're concrete pads and patios with picnic tables, with decorative rock between sites. For most times of the year, a reservation is needed to get assigned one of these sites.
In between these two sections is a small grassed area for tent camping, the playground and picnic pavilion, and the dump area. This campground has added many "nice" touches and amenities. Circling the entire new area is a wide walking path. Along this trail and throughout the park are numerous "doggie pots". These are stations with bags and places to put the doggie waste. There's also a large "bark park", or fenced in grassy area for dogs to run free and socialize. There's free Wi-Fi, but it's mostly available in the new section and those sites close to the office. We were fairly close to the office, but couldn't get a signal. The office is clean and modern, with wonderful operating hours. They're open until 2100hrs on weekdays, and 2000hrs on weekends. Almost unheard of for a military campground! The office area is also the lounge, full of games, computer dial-up tables, area information, a large television with VCR and DVD. There's also a small, fully equipped kitchen for guests use. The back of the lounge area is the small laundry, with 3 washers and 3 dryers, each for $.75 a load. Another washer and dryer is located in the back of each of the two shower rooms.
As I previously mentioned, this is one active park. It's very obvious that management is working hard to make this a 5 star location. It's a good sign to see the park manager behind the counter, plenty of employees or workers all around, improvements and construction taking place, and seeing trucks, street sweepers, a tractor, and other equipment parked in a small maintenance yard belonging to the campground. To us, the weakest point here is the stay limit policy. They allow guests to stay for 6 months before having to leave for 30 days. We believe this is too long. A better policy is a month stay limit in FHU, with a rotation to dry camping and a waiting list for the FHU sites. For our visit, we rated the campground with 4 stars. While we weren't extremely happy with our site, the overall operation of the campground was impressive. If they had stayed with putting only 4 RV's in our circle (as designed for), then us and 23 other RV's would have been pushed into dry camping or turned away. For many, any hook-up, even if shared, is better than none. Another highly recommended military campground. Just be sure to have a reservation for the nicer, new sites.