Los Alamitos RV Park, CA was newly opened within the past couple of years. It's not well known, and not much information was known about it. We visited the park in February 2007. Finding the park wasn't too hard, but it's much easier now with the updated driving directions. The RV Park is located near the base swimming pool, and near the temporary lodging facility in a quiet area of the base.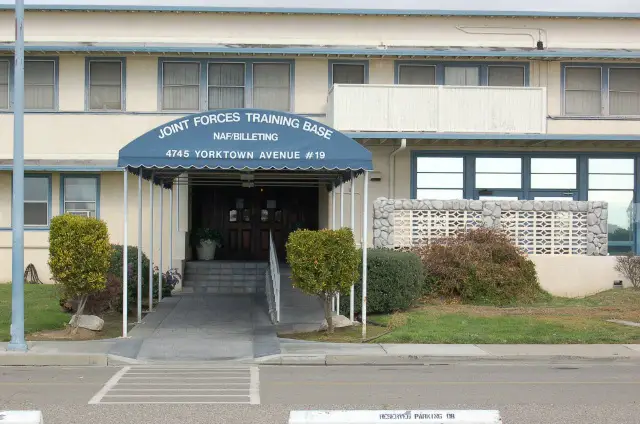 Check-in Office
Our first impression when we drove up to the RV Park was – huh? It's a small area surrounded by chain link fence, with only 15 RV sites. All of the sites are full hook-ups, with water, 30amp electric, and a sewer connection. 2 of the sites also have 50amp electric. Most of the sites are fairly small. They are short and narrow. Anything over 30' will have problems. However, there are about 4 sites that a big rig would fit into, but it's still going to be close quarters. Of the 15 sites, 2 of them share a utility pole. One of these sites is outside of the chain link fence, with the utility pole inside of the fence. The entire RV Park is dirt. During our short visit, it had recently rained and the entire park was muddy.
There are no tent sites or dry-camping parking. There are no patios, no picnic tables, and no BBQ's at the RV sites. Across the street is a picnic pavilion with BBQ's. The RV Park doesn't have any other amenities. No bath/shower house, no Internet, no lounge, and no laundry. I asked if guest's could use the temporary lodging laundry, and was told there isn't any, but there is a small Laundromat on post.
Although the signs around the RV Park tell walk-in quests where to register, I was told that reservations are required. A credit card is required for a reservation, and if cancelled less than 24hrs before arrival, there's a 1 day cancellation fee. The main problem is only one person handles all reservations and check-ins for the RV park. If she's not there, nobody else will help you. However, I think if she's there and you walk-in without a reservation, she won't turn you away. But if she's not there, you're out of luck. Her posted work hours are Mon – Fri, 1300hrs – 1600hrs.
| | |
| --- | --- |
| | |
| Full Hook-up RV Sites | The Entire RV Park |
Being a fairly new RV Park, on a base that doesn't seem to give it a high priority, there are still policy issues. I was told since pets are not allowed in the hotel; they don't allow them at the RV Park. But they also said they wouldn't turn someone away of they arrived with a small dog. The reservation requirement issue also seems to be negotiable. In addition, the length of stay policy is unrealistic. Active duty is allowed to stay 30 days at a time, and can extend if on orders. Everyone else can stay one day at a time, but can be extended. Its "day by day and varies based on circumstances". The only real policy seemed that the maximum stay is 180 days within a year. I feel the stay policy is actually fairly flexible. During our visit, there were only 3 guests staying in the park. I was told they have never filled up. Even on drill weekends, the RV Park is almost empty.
The people at the check-in desk were real friendly. I got the impression they want to provide a better RV Park, but their hands are tied. They're doing the best they can with what they were given. I've tried real hard in this review to not say anything "bad" about this RV Park, but it's even harder to say anything positive. The nightly rate of $21 is ridiculous for this location, with the mud with very small sites. Considering Seabreeze at Seal Beach is 100 times better, only a few dollars more per night, and is nearby, the only reason to stay here is if you work on base.