The previous user reviews and ratings for Hill AFB FamCamp, UT listed here were mixed. When we visited this campground in late October, 2006, there were 7 different ratings. A 1 star, a couple with 2 stars, a 3 star, a couple 4 stars, and a 5 star. With a wide difference in ratings, I was a bit eager to visit this FamCamp and see for myself. Why was there such a difference in opinions and ratings?
We followed the directions posted here for "Westbound on I-80". The directions were clear, but had a few street names incorrect. We've updated all of the directions to use correct street names. Checking in was a tad confusing at first. The campground manager/host was on vacation for a month, so we had to use self check-in. Another camper was in front of us, and he was fairly frustrated. He was having a hard determining which sites were available. It appears much of the check-in is "do it yourself", as there's a special glass kiosk just for checking in. A note on the wall told us which sites were available, there were plenty of envelopes, and a small secured metal box to put your envelopes/checks in. The confusing part was with the available signs. There were about 6 sites listed, with another note stating DO NOT take any other open site or any open gravel site. Some of the sites don't have site numbers on them, so you had to guess which site they were. Some of the new, paved sites were open, but not listed. It was a shame to see the nice sites sit empty. Gravel and paved sites are mixed together, which made it more confusing. When we checked-in late afternoon, there were 3 listed sites still available. We noticed a new list was up the next day.
We were also a bit surprised that nobody covered for the host while they were out for the month. I'm sure if it was advertised, they could have easily gotten a volunteer to be camp host for month in exchange for a free site. The building that's used for the check-in, the office, and the lounge is also a building used by Outdoor Recreation. I actually went to that half of the building first to check-in. But the door was locked with a sign explaining where the campground self check-in kiosk was located at. But there were Outdoor Recreation staff inside the office. I wonder why they couldn't have taken care of guest check-in's for the month.
Our first site we selected had a tree blocking our satellite dish. So we just moved a few sites down. Of course, this was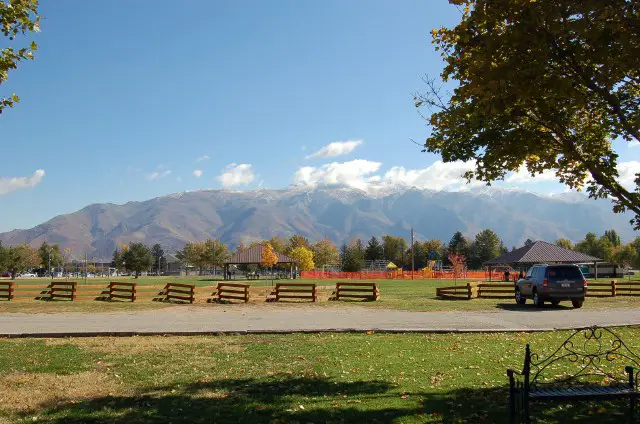 done before we turned in our payment envelope. Turning in our envelope brought another small issue. We were using a USAF Frequent Camper Club "Camper Cash" to get a free night. With nobody to give it to, we just placed it in the envelope with one night's payment (we stayed 2 nights). But what about getting our Frequent Camper Club book stamped? In the self check-in kiosk was a note explaining how to handle the book and stamp. One option was to return in the morning to the office, but that wouldn't work for us. Nobody was there for a month. Our other option was to keep the receipt and include it with the book copy when we send it in for a tier upgrade. We'll see (hope) if that works when it's time to move tiers again. Since I still have the receipt, I think I'll ask the next USAF FamCamp we visit to stamp the spot I used for Hill AFB. Maybe they'll be nice and stamp it, then we won't worry about loosing the receipt.
The campground has an older section of RV sites with scattered trees, a large strip of grass and trees for tents and dry camping, then a new paved section of RV sites. The older section isn't well organized. There are paved sites next to gravel. There might be a paved site next door, or it might be a gravel site. Every other site has a shared water spigot and sewer connection. This means someone is going to have their water and sewer connected on the wrong side of the RV. Electric hookups are also scattered, where you may have the electric on the wrong side. Within the older RV section, few sites have all 3 hookups on the correct (driver) side of the site. All sites in the older section are back-in. Many of the sites are back to back. Our site was a long concrete pad for 2 sites. Each of these sites had a line painted on the concrete to show where your site ended. Out 36' motor home extended 3' past the line. This just made our backyard neighbor a little closer. Our electric connection was fine, but water and sewer were on the patio side, next to the patio. I didn't appreciate the idea of running a sewer hose across my patio, which I would have needed to do. We didn't connect to water or sewer. While there are picnic tables and charcoal BBQ's, they are randomly located. Some sites will have a BBQ, others a table, some have both, and some have neither.

The middle divider strip of grass and trees is a shared area for tents and overflow. One side is for tents, with scattered water spigots. There's railroad ties separating the other side, which is for overflow. This overflow parking might require parallel parking between trees. However, there is also a small overflow area at the end of the campground. The new section is paved, with asphalt roads, concrete pads, and a small shared gravel area between sites. The shared gravel area serves as the patio, with 2 picnic tables. No trees or grass in the new area. These are all large, pull-thru sites with the utilities in the proper location.
Since the manager/host was on vacation for a month, the office and lounge was locked up. We saw a TV and VCR/DVD in the lounge, but couldn't evaluate any Internet connection or the rest of the building. The restrooms and showers are in a separate building located at the end of the older area. The laundry room is at the end of the shower/bathroom building, which was recently cleaned. There are 4 washers at 75 cents a load and 4 dryers, also at 75 cents a load. It appeared there used to be computer connections in the laundry room, but had been removed. Perhaps they're in the lounge now, which was useless to us since the lounge is closed for a month.
The FamCamp is located in the middle of activity at Hill AFB. The gym is across the street and the large park/picnic area next door. The gas station, exchange, and commissary are within a couple blocks. The flight line isn't too far away, so the "sound of freedom" is present. It's also located on a busy street, so car traffic was a small issue with us. But there's a wonderful view across the park with mountains in the distance. The campground is near a major base gate which RV's are allowed to exit thru, but RV's are not allowed to enter this gate. Use the posted directions for the Roy Gate. Hill AFB, being located in the heart Ogden Utah, there's plenty of outdoor activities in the area. Shopping of all types is just around the corner from the campground. Salt Lake City is nearby, offering a ton of tourist activities and sights. We enjoyed our entire time in Utah. It's a beautiful state with diverse terrain and scenery.

After seeing Hill AFB FamCamp first hand, I can understand the mixed reviews. It does come down to a matter of expectations. Since most of the RV sites are mixed combination of hook-ups, layout, and features, a guests impression of the park can be affected by which site they got. Some sites are MUCH better than others. I wasn't too thrilled about our sewer hookup being on the wrong side and would have been upset if I was planning on staying here for a week or more. But this arrangement isn't very unusual. We've visited many other military campgrounds that had strange hook-up arrangements. Usually, these are converted mobile home parks (which this may also have been). This FamCamp was clean, well trimmed, and met our basic needs. I think the pricing is perfect for this park. Hill AFB FamCamp wouldn't be my ideal location to spend more than a week at. The key to accepting military campgrounds like this one, is not to expect too much. It's not a large RV resort, like some military campgrounds are. It's not a run-down dump neither. As with comparable military campgrounds, we've rated this park average with 3 stars. I felt that base management, the Services Squadron, and Outdoor Recreation need to more involved in improving and managing the campground. It sounds like the campground manager/host does it all by himself. I don't know if he's paid staff, or a volunteer. But a well ran military campground, priced fairly, can be a valuable asset to a base. One person can't do it all. In comparison, we recently visited another USAF FamCamp that had a staff of over 8 people working when we arrived! To say the least, there was a big difference in the campgrounds. Most of this staff worked as "workampers". They got a free RV site in exchange for working 24 hours a week at the campground. While Hill AFB FamCamp is much smaller, one or two sites could be used for workampers.

When we're traveling through this area and need a place to spend the night or more, we won't hesitate to stop here again.
| | |
| --- | --- |
| | |