We tried to spend a week at Fairways RV Resort in March 2007, but we didn't have reservations and there was no room for a week's stay. Luckily, the other Navy campground at Pt. Mugu RV Park was nearby. We had a little trouble finding the campground, partly because the posted directions were unclear and some of the streets are not marked. I've updated the driving directions, so hopefully they'll be a better. When we arrived, we spent some time with Crystal at the check-in desk. She was very nice and accommodating. She seemed real sorry that she couldn't fit us in for the week.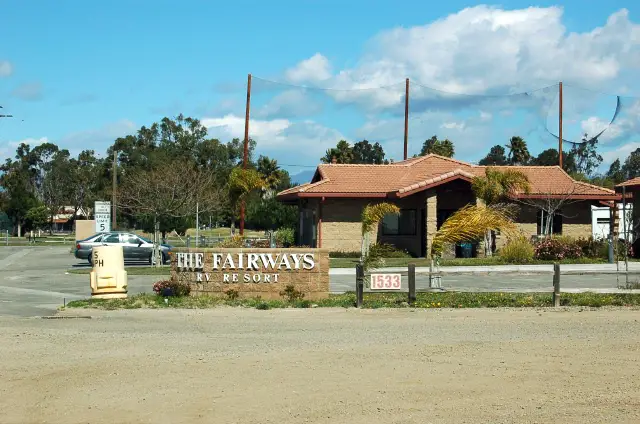 Check-in Office
This is a real nice RV Park located on the base. Although the main road with the commissary and exchange is nearby, the RV Park is located far enough away from the main streets to not be disturbed by noises. When you enter the RV Park, make an immediate right turn. There are two long parking spaces for RV's to use while checking in. The small check-in office is right there, to the right when you enter the gate. The park's streets are almost all one-way. Turning right once through the gate puts you in the correct direction for all the roads.
The park appears new, well kept, and modern. There are no spaces for dry-camping, overflow, or tents. There were a few RV's parked outside of the RV Park along the fence. Crystal didn't know what they were doing there, but it wasn't approved for overnight parking. All 34 RV sites have water, 30 and 50 amp electric, sewer, cable TV, and instant on phones. Telephones can be borrowed from the office. All sites are also pull-thru, with concrete slabs for the RV and patio, asphalt roads, and grass between sites. All sites also have a picnic table, charcoal BBQ, and a pole for hanging lanterns, flags, or bird feeders on. Sites aren't real close together, but not real spacious either. There's scattered small trees and bushes among the sites as well. Although we saw plenty of empty sites, they were all reserved. Everyone just hadn't arrived yet.
With a reservation, they hold sites until the following morning. If a guest doesn't show or cancel within 48 hours prior to their scheduled arrival, they'll be charged for the 1 night the site was held. While reservations are not required, they are recommended. Active duty and retirees can make reservations 180 days in advance. DOD civilians and other authorized users can make reservations 60 days in advance. A credit card is required to make a reservation, which will be used for the 48 hour cancellation policy previously mentioned (if needed). The maximum stay in the park is 30 days. Then a 7-day departure is required before you can return. You can repeat this 30 days in – 7 days out routine all year, if you wish. Since all sites are also prepaid, there's a 1 day fee if you leave earlier than planned, unless you give at least a 24 hour notice.
| | |
| --- | --- |
| | |
| Full Hook-up RV Sites | The RV Park |
| | |
| Picnic Pavilion and BBQ | The Lounge Area |
As previously mentioned, the park is clean and modern. There's a central building that houses a small lounge with a large screen TV, books, puzzles, and a small kitchen area. The bathouse and showers are also on one end of this building. One side of the building houses the small laundry, with 2 washers and 2 dryers. The Navy base itself has a wonderful golf course, a large commissary and exchange, gym, theater (with free movies), and a Seabee Museum. Being near the coast and Channel Islands, there's plenty to do. Be sure to check with the ITT office for discount tickets. Whale watching is also very popular.