We visited Edwards AFB FamCamp in February, 2007. Once we arrived, we realized we had made a mistake. We were staying at Desert Rat RV Park in Barstow and came here just for the day. This is the FamCamp we should have stayed at! The posted driving directions got us to the campground, but we've posted better directions. There are also signs on base directing you, so it's not hard to find.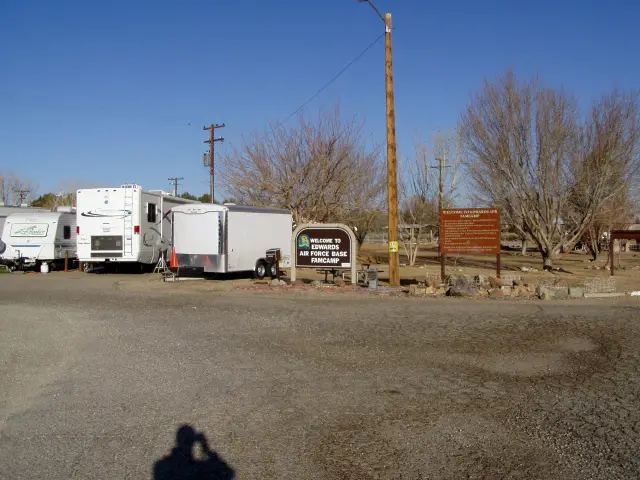 Welcome Board and Self-Registration
The famcamp is near much activity, being behind the bowling alley, next to the swimming pool and youth activities center, and across the street from the Commissary and Base Exchange. We'd never seen a famcamp with "FamCamp Tennis Courts" before. The campground is sort of in a circle layout. The middle area is grass with a few trees and has a couple picnic pavilions and BBQ, along with their new shower/bath house. The new bathhouse had just recently been built and wasn't yet open. Adjoining the famcamp is the aforementioned tennis courts, a base swimming pool with water slide, and the youth activities center. The current bath and shower house is part of the swimming pool and is open 24/7 for campground users.
When you arrive, there is no check-in office. It's all self registration. Although, usually there is a camp host available for assistance. To the left of the welcome sign is a box with registration envelopes, information, and a safe for your money. Behind the board is a layout of available RV sites. During our weekend afternoon visit, there were still 4 FHU RV sites available. As a note to USAF Frequent Camper members – you can keep your receipt and submit it with your logbook copy as proof of your stay, or take your logbook to the Outdoor Recreation office to get stamped.
There's 21 FHU RV sites with water, 20,30,50amp electric, and sewer connections. There's also a reserved parking lot with 22 dry-camping overflow sites. The overflow sites can only be used if all the FHU sites are occupied. The campground also has 4 designated tent sites, with room for more. Each of the 4 tent sites has a picnic table and BBQ in a grassy area. A porta-potti is nearby. There are a few large FHU sites with plenty of room between them, usually with grass and a tree. Although there's only a 15 stay limit, it appeared many people staying in these sites have been there longer than 2 weeks. The remaining 15+ sites are a bit crowded. Two of these sites share an asphalt pad, in a ying-yang pattern. The hookups are between them in the middle of the asphalt. On the patio side, there's a shared gravel area with 2 picnic tables, and maybe a BBQ. This layout makes for VERY close quarters, especially if you have a slide-out. We saw many neighbors only inches away from each other. The roads are all paved.
| | |
| --- | --- |
| | |
| Full Hook-up RV Sites Close Together | FHU Sites with Space |
While there's not much to do in the local area, there's plenty to do on base. Besides all of the normal facilities found on a large Air Force base, there's an all day tour of Edwards AFB available. It includes the Air Force Flight Test Center Museum, a windshield tour of the Edwards flight line, and a tour of the NASA Dryden Flight Research Center. The famcamp is one of a few remaining that still has the low rates that we expect from a military benefit. It's a nice, clean, quiet campground with a fair stay policy and excellent rates. Despite the close quarters for the RV sites, I rate it above average.
| | |
| --- | --- |
| | |
| Overflow Area | Tent Site |