After visiting Death Valley, we stopped by the Desert Rat RV Park in Barstow, CA for a couple nights. Besides, our motor home brakes needed repaired. Finding the park was a little bit of a challenge, since there weren't any driving directions available. But we got lucky and found the park quickly. Of course, driving directions have now been updated here, so you'll be able to go directly there.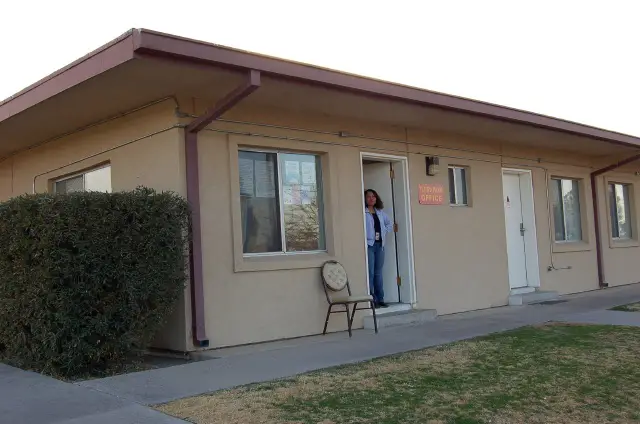 Check-In Office
We got lucky and found two full hook-up (FHU) sites available. We weren't too sure on what to do, as the only instructions posted were to make payments at Bldg. 185. We pulled the motor home over, and headed out in our Jeep to find the check-in building. But the sign also said Bldg. 185 was the E-club. Don't believe it. We found the check-in office directly behind the RV Park, on the South side. It's also the office for temporary lodging, at the corner of Bldg. 185. All sites are first-come, first-serve. When you arrive, you can take either site 24 or site 25, and then check-in at the office. It wasn't soon after we arrived that the remaining FHU site was taken.
The ladies in the office were friendly and made us feel welcomed. For a small park, I thought it interesting to see the office is open seven days a week, 7:30am to 10:00pm. This office also takes care of the temporary lodging facilities.
There are 25 FHU sites and an open area for overflow. All of the sites have a concrete pad that's wide enough to also be your patio. Gravel separates the sites and the roads are asphalt. There are no picnic tables or BBQ's at the sites. With plenty of maneuvering space, the park is big-rig friendly. The overflow area is adjacent to the FHU sites, and is a open dirt field.
While this RV Park is clean and fairly modern, I felt the prices are a bit high for here. There are no amenities. No showers, no restrooms, no Internet, no lounge, no activities, and no laundry at the park. However, you can use the 2 washers and 2 dryers at the temporary lodging next door. The shower is at the gym, located ½ mile away. $10 a night for dry-camping is expensive for getting a field to park in. The FHU sites were $18.50 a night, which is also a bit high for not having any amenities. The monthly rate of $375 does make the FHU sites reasonable, but still high compared to other military campgrounds in the deserts of California and Arizona.
| | |
| --- | --- |
| | |
| Full Hook-up RV Sites | Overflow Are |
My biggest objection and complaint about this park is their length of stay policy. Of the 25 FHU sites, only 2 are considered "short-term" sites. Guests are allowed to stay 2 weeks in these sites, but can ask for extensions. The other 23 FHU sites (over 90% of the park) are considered "long-term" sites. Guests can stay in these sites indefinitely. Guests have been staying here for over 3 years. The log-term sites are occupied by active duty, retired (at least one is a retired Lt. Col.), and even one civilian who works on base. This policy restricts the recreation user and vacationer from utilizing the RV Park. It appears this park is treated as extended housing, rather than a recreation park. Their primary goal appears to be "to make money". This may be a result of the RV Park being managed by the "Food and Hospitality Branch" of the Marine Corps Community Service, rather than the "Recreation Branch".
There are plans to add an additional 10 – 11 FHU sites by the end of the year. There's also talk, but no firm plans, to build a shower house and laundry facilities for the RV Park. When the additional FHU sites are completed, a total of 5 sites will be used for "short-term" stays, with the remaining sites still being for "long-term". There will still be room for 4 or 5 dry-camping sites.
In my opinion, the lack of amenities, the high rates, and the unfair length of stay policy results in this RV Park being below average.