After spending a couple weeks in the desert dry-camping, we planned to visit Desert Breeze Travel Camp to cleanup, empty our tanks, fill-up on fresh water, and do laundry. We did this a couple years ago, and the large overflow area was almost empty. This time, we had a surprise on arrival. That large overflow area has been converted into 22 FHU sites, with only 7 overflow sites available. Being in the middle of "snowbird" season, all 91 designated sites were taken! But Bruce, the camp host on duty, went out of his way to make a spot for us. He parked us in a large area not typically used for parking. They make every attempt to not turn anyone away. In addition, he opened up the dump for us on a Saturday, even though it's clearly marked as closed on weekends.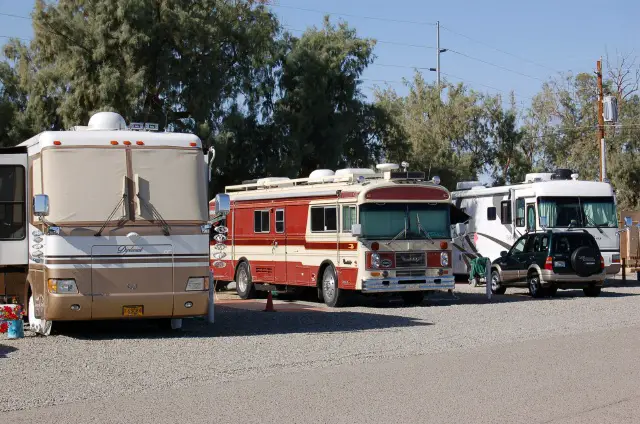 FHU RV Sites

This wonderful hospitality was carried over to Monday, when we checked in at the office. Diana, the park business manager, was very nice and accomadating. Even other park guests were friendly and talkative as we strolled around the campground.
With the recent addition of the additional 22 FHU sites, there are now 84 FHU sites available, all with 20,30, and 50amp electric and cable television. All sites are made of decorative rock (large gravel), with concrete patios and asphalt roads. However, there are no picnic tables or BBQ's. Since there's a 7-month stay limit, many park guests have settled in for the season. Some have extended their patio's with large concrete patio blocks, and some have created bricked walkways to their site. But I noticed these were usually those with a scooter or wheelchair. Without a paved walkway, it would be impossible to roll on the newly placed rock. Using different colors of the decorative rock is common in desert landscaping, and looks pretty good.
In addition to the newly added FHU sites, a new recreation room was opened in October 2006. This is one of the largest recreation rooms I've seen at a military campground. There's a large room full of games, including a pool table, ping-pong, electronic darts, a table shuffle board, card tables, exercise equipment, and comfortable chairs. There's also a small kitchen, a seperate theater room, a seperate computer room, and an attached large dining hall. The theater has a large screen television with large theater type seating. The computer room has tables for computers with free wi-fi, DSL and phone dial-up connections, and a computer for guest's use. The large dining hall is full of tables and chairs, with televisions in each corner. While no activities were planned during our visit, we just missed their Saturday morning breakfast. In addition to this new, large recreation room, the old recreation room is also still available. The old recreation room also has a television, DVD, and VHS, and a wall full of board games and puzzles. The showers are also located in this building, as is two laundry rooms. The showers are a bit on the old side, showing their 'wear and tear'. During our visit, the shower rooms could have been cleaned better also. Between the two laundry rooms, there's 6 washers and 6 dryers, all at 75 cents a load. However, 1 washer and 2 dryers were broke.
| | |
| --- | --- |
| | |
| Typical FHU RV Site | New FHU RV Site Area |
Desert Breeze Travel Camp is located on the Yuma Army Proving Grounds. This is one of the Army's areas to test new equipment. But you'll probably never see any of this equipment being tested. The testing grounds cover hundreds of acres. This is also home of the Army's Blue Knights Parachute Team. On other stays here, we've seen many sky divers nearby. While on a small scale, there's many base facilities available near the RV park. There's a new gas station with a shoppette, class VI,  and launderette and propane for RV's available. There's a swiming pool and water slide, bowling alley, library, commissary, exchange, fitness center, basketball, tennis, stables, a skate park, various arts and crafts centers, clubs, and a nice cafe. The RV park also has horseshoes, and a large outdoor picnic pavillion with BBQ's. The base is located about 25 miles from Yuma, AZ, which has all the stores and dining facilities you could want. The Yuma Marine Corps Air Station is also about 25 miles away, with more base facilities and a larger commissary and exchange.
While not yet approved or budgeted, the park manager is trying to get the new computer wi-fi extended to cover the entire RV park. She also is fighting to get a small swimming pool with hot tub added to the RV park. If the recent modifications is any indication of her success, I'm sure we'll see these new refinements within the next few years. It's great to see a military campground being proactive and improving.