While staying in the area during March, 2007, we stopped by the Channel Islands Coast Guard Campground to see what was there. We weren't impressed. But we're sure it serves its purpose for the few people who decide to stay here.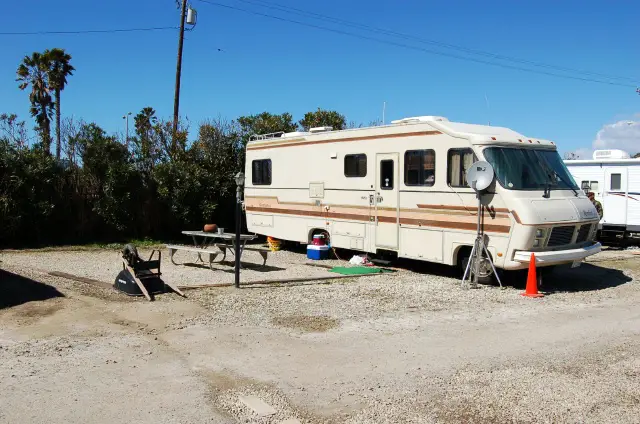 Typical RV Site
We didn't have any problems finding the campground following the directions posted here. The hardest part was to watch for the Coast Guard Recruiting sign. We pulled in through the gate and parked, but there was no indication of where to check-in. We went to the recruiting office, which is next door. They told us the campground manager is the first RV on the East (right) side of the campground. But nobody was home, so we didn't get a chance to discuss ore about the campground.
There are 10 RV sites lined up with about half on one side, and the other half on the other side of the road. The road is dirt and goes to the adjoining RV storage lot. The entire campground appeared to be part of the storage lot, using the same fenced in area. Sites were fairly close together with gravel sites and gravel/weeds between the sites. Many of them did have picnic tables. All sites have water and 30amp electric, but no sewer was noticed.
The campground was full during our visit. It's located right on a very busy street, with plenty of car noise. While the campground is all gravel and dirt, there is a large grassy field for sports and a covered picnic pavilion. During our visit, they were in the process of replacing the old RV utility hookups with new poles can connections. These new poles will continue to have water and 30amp electric at all sites. There are no amenities at this campground.
| | |
| --- | --- |
| | |
| The RV Park | The RV Park |
| | |
| RV Sites | Recreation/Picnic Area |
While this small campground appears old, rundown, and is used by long-term residents, it is a good bargain for those who don't need a fancy RV park. $275 a month, including the electric bill is a good deal. If they had sewer connections at the RV sites, it would be a great deal.