Editors note: This article was written in April, 2008 by Jim Twamley, www.rvtravel.com, and is used by permission.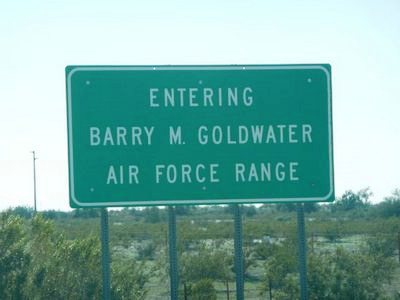 RVers love Arizona in the winter because of the warm weather. Gila Bend Famcamp is owned and operated by Luke Air Force Base. Located on the Barry M. Goldwater bombing range you will see several types of aircraft "shooting transition" which is aviator talk meaning they are doing approaches and touch and go procedures.
We've stayed in this campground a couple weeks each winter over the past four years. It's a great place to relax and do nothing because there isn't really much to do. The Organ Pipes National Monument is worthy of a visit as well as the Painted Rocks State Park where you will see petroglyphs. Contact the Public Relations Department at Luke AFB to go on an organized tour of the bombing range.
Many retired military RVers like to camp here a few days before and after returning from campgrounds in Mexico. There are minimal facilities at this campground. There are no showers and the nearest bathrooms are located in the billeting office. Since the campground is at the auxiliary airfield, there is no exchange, gas station, commissary, or coke machines. There isn't even a mailbox, but there's lots of desert. If I were the base commander, I would be embarrassed by the condition of this campground (especially given the fact that next door Davis Monthon was voted the best military campground for 2007).
There are nine broken and unusable sites at Gila Bend. In February I counted ten RVers camped in the dry camping area because the campground was full.
This famcamp is on a bombing range with over one million seven hundred thousand acres of land - you would think something could be done to accommodate more campers - like fixing the broken sites. The tap water here is unsafe for human consumption so they were forced to install reverse osmosis water filtration systems at every camp site and in each room at billeting. They are making some progress because they added a laundry room last year which is free for registered campers.
The back row has cement pads and 50 amp service. The rest of the sites are mostly 30 amps with a few 50 amp sites scattered around. If you don't like bare bones, no frills camping this is not the place for you. Private contractors run the auxiliary field and could care less about the condition of the famcamp and so it continues to fall apart. What a shame! I sure hope Luke AFB is taking better care of their aircraft because they sure don't know how to run a family campground. Jim Twamley, Professor of RVing

I wrote a letter to the Base Commander and this is a response dated 25 March, 2008 from Brigadier General Noel T. Jones, Commander, 56th Fighter Wing concerning the broken sites at Gila Bend Famcamp.

Dear Mr. Twamley

Thank you for your letter regarding the suggestion to expand the RV park at Gila Bend AFAF, AZ. We appreciate comments such as yours as it helps us develop strategies to better serve our customers and make the best use of the facilities we have.

The sites you identified do not currently have utilities connected to them. At one time they were part of a mobile home park but the utilities were disconnected when the park was closed many years ago. The existing infrastructure in the RV park is in need of upgrade, and we believe the first priority is improving the electrical service, however, the initial estimates from our engineers place the cost of the electrical upgrade above the threshold for local funding. Therefore, an Air Force level project is needed. We'll continue to pursue that large upgrade project, however, austere funding and restrictive criteria may well hamper our efforts. In the meantime, we'll continue to make small improvements such as the recent addition of the laundry facility, and additional new washers and dryers for our customers.

Thanks again for the suggestion. We welcome your future comments and suggestions as well as those from other customers who use the facilities at Gila Bend.

Sincerely

NOEL T. JONES
Brigadier General, USAF

Should you like to write to him the address is:

Brigadier General Noel T. Jones
Commander, 56th Fighter Wing
14185 West Falcon Street
Luke AFB, AZ 85309-1629