Editors note: This article was written in April, 2008 by Jim Twamley, www.rvtravel.com, and is used by permission.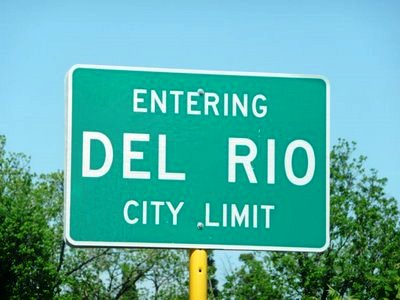 Laughlin AFB RV Famcamp is located in Del Rio, Texas on the Rio Grande. Across the river is the old Mexican cowboy town of Acuna. The cowboys used to herd their cattle across a low shallow place in the river here on their way to market. Before I get to the particulars of the campground let me tell you what the town of Del Rio has to offer.  If you are an angler you probably already know about the great fishing here. History buffs will be pleasantly surprised by the Whitehead Memorial Museum. This is one of the best museums in south Texas and it's free. The oldest building in these parts anchors the museum.  The Old Perry Building was erected in 1871 before Del Rio was even a city. It was the largest store between San Antonio and El Paso and also served as a church, courthouse, and public gathering place.  There are other old buildings in Del Rio including Texas Historic Landmark Sacred Heart Catholic Church built in 1891. There is also an old winery here as well as other very interesting historical sites.  Be sure to head across the Mexican border and take in some shopping, dining and sightseeing. The campground in on base six miles east of Del Rio. Just go through the main gate and drive straight until you dead end in the campground. The 20 huge pull through sites have full hook-ups, a patio, table and BBQ.  Each site has 50 and 30 amps and 110, water, sewer and free cable TV. In 2008 the rates were around $10.00 a night if you stay a week or longer and $15.00 per night otherwise. The rules don't allow washing of vehicles in the RV sites, but there is a coin operated car wash nearby. For a complete overview of this campground be sure to watch the video below.
| | | |
| --- | --- | --- |
| | | |
| Del Rio, TX | Whitehead Memorial Museum | Sacred Heart Catholic Church |
| | | |
| Mexico Street Lights | Acuna Store | |
The Exchange and Commissary are medium size but well stocked.  Please note the Commissary is closed on Monday.  XL club serves a mean Mexican buffet but you'll need to pick up a base newspaper to find out what is being served and when. The bowling ally has a nice cafe and there is a Burger King in the Exchange. The Base Chapel has a full range of services and the gymnasium is the best I've ever seen on a military installation. A nice walking and biking trail passes through base housing and by the gym.  The Silver Wings cafe serves great sandwiches and you can eat your lunch while watching flight line operations from the second story observation lounge.  Since this is a pilot training base it can be somewhat noisy, but you'll get used to it after a few days.  Weekends are usually quiet. It's windy in this part of Texas, in fact, it's frequently windy in Texas period! So please don't put your awning out and leave for the day.
| | | |
| --- | --- | --- |
| | | |
| Laughlin AFB FamCamp | Base Exchange | Commissary Hours |
| | | |
| Silver Wings Cafe Hours | Silver Wings Cafe | The Flightline |

I highly recommend making advanced reservations. You may reach the reservation desk by calling (830) 298-5830. If you arrive without reservations, be sure to check in with the campground host before you pull into a site.

Oh, did I mention they have the best store bought ice cream in the ENTIRE world here in Texas? If you've had it, you know what I'm talking about.