During the first week of October in 2019, we enjoyed a week stay at this FamCamp. As other's have mentioned in the various reviews, the FamCamp is on the far side of the base. It seems like a bit of drive with many turns to get there, but it's not bad. I'd rather be out there near Bass Lake than in the middle of the base. Following the directions on the website took us straight to the FamCamp.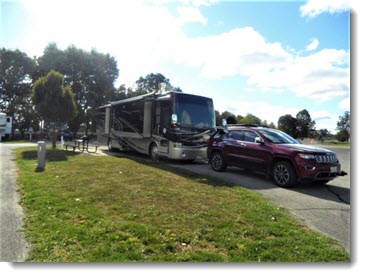 We had reservations and was greeted by the camp host as soon as we drove in. They escorted us to our site, which did have a "reserved" card on it with our name. If we knew our site number, we could have driven directly to the site. The FamCamp is near (walking distance), but not directly on Bass Lake. There's 40 full hook-up sites and 11 RV sites without sewer. There is a dump station available, but it's not located in a great location. During our visit, all sites were $25 a night, which is still a great rate for this area. I hope they keep these good rates and don't get greedy like many other military campgrounds have.
The FamCamp is getting a little old, but is still in good shape. It has paved roads and RV sites, with grass between the sites. The free WiFi was okay, but we did have some problems connecting at times. Cell and satellite signals were good. There is a campground office nearby that offers rental kayaks, canoes, aqua trikes, and more for those desiring aquatic fun on Bass Lake. However, during our late season stay, the office was rarely open. There were no signs of "homesteading" in the campground, although you're allowed to stay up to 6 months. The camp hosts were nice and helpful. The restrooms, showers, and laundry were adequate and were kept clean. I didn't see a designated dog park, but there's lots of open space nearby to walk them.
Wright-Patterson AFB is huge! The commissary and exchange are a decent size. You can also find fuel, banking, a Class VI, a hospital, a huge golf course, and many other amenities on the base. Of course, the National Museum of the U.S. Air Force is a big attraction here.
We spent a couple days at the USAF Museum, and could have easily spent a couple more days there. Admission is free. To say the least, it's a fantastic museum and we greatly enjoyed it. The numerous displays are separated by various times and conflicts in history. Very well displayed. There's free tours given throughout the day. The only negative I have to say about the museum is they don't allow food, drinks, or water to be brought in. They then charge you $2.50 for a bottle of water. The small dining cafes were expensive, had a limited selection of microwave food/snacks, and the food was terrible. Shame on the Air Force for allowing this food contractor to exploit museum visitors with sub-standard meals!
This is another FamCamp that I wouldn't hesitate returning to.

Information, maps, photos, video, and details on Wright-Patterson AFB Bass Lake FamCamp.

Drive-through video of Wright-Patterson AFB Bass Lake FamCamp.