We visit the Seal Beach RV Park (previously known as SeaBreeze RV Park) almost every year as part of our annual pilgrimage to California. This RV Park is located at the Navy Weapons Station Seal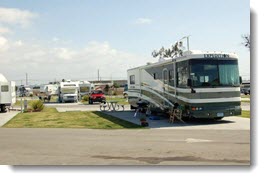 Beach, CA. Connie and I grew up near here and still have family on the area. This very well maintained RV Park opened in 2005.
This RV Park is located in a prime location near old town Seal Beach and within a half-hour's drive from Disneyland and Knott's Berry Farm. But it's a quiet park near a wildlife refuge, away from the traffic and hustle and bustle of the city. There's 85 large full hook-up sites spaced well apart with well-maintained green areas between sites.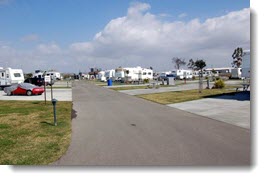 This is a full featured RV Park, with plenty of amenities. In addition to the provided cable TV, there's a very clean shower and bath house, a large modern laundry room (with FREE laundry), a picnic pavilion and BBQ, free WiFi, and even a RV wash rack. There's an exercise track that surrounds the RV Park with trails going to the beach. About the only amenity lacking is a recreation room/lounge. The base also has a wide variety of recreation opportunities, but only a small exchange and no commissary. There is a golf course with a new clubhouse nearby. The private beach on the Navy installation is about a mile away. However, there's no access to the beach if a ship is in port.
During our visit this year, the RV Park was about 75% full. The availability of sites is partly due to the Navy's length of stay limits. In year's past, there were many people living in this recreational facility and it would get hard to make a reservation. However, the base commander has been starting to crack-down and abide by Navy regulations. In recent years, we've seen a decline in the long-term stays here. This year, they have implemented a 30-day stay limit, then you must leave for 14 days. Of course, this is affecting the RV Park financially. They already plan to raise the rates in 2019 to offset the loss of occupancy.