Editors note: This article was written in September 2010 by Kathy Cramer and is used by permission.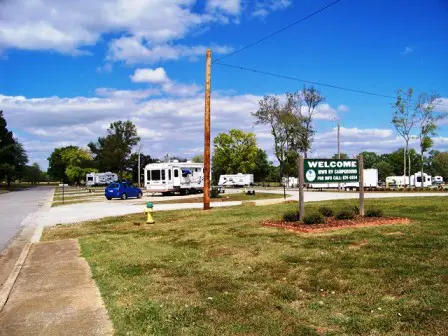 It is important to note that there are two distinctly different camping facilities located on Redstone Arsenal - an RV Park and the Easter Posey campground. The RV Park has 42 paved sites and can handle the largest of RV's. Easter Posey is located on the Tennessee River, highly wooded and RV's over 30 feet are NOT recommended. When speaking with Outdoor Recreation Personnel be certain you specify which facility you are discussing. This article contains information about the RV Park.
We spent a week at Redstone Arsenal RV Park located near Huntsville, AL in late September 2010. We called the Outdoor Recreation Office as we entered Alabama on I-65 traveling from the north. The representative at Outdoor Rec took our registration information and gave us a site number so we would not have to stop at the office. I would strongly recommend registering by phone; hours are 0930-1700 CST daily – (256) 876-4868. The staff at Outdoor Rec makes it very convenient. A sign will be posted at your site with your name, dates of stay and your receipt stapled to it. Reservations are permitted up to 60 days in advance. Do not attempt to take your Motor home or trailer to Outdoor Rec Office; there simply isn't room. If you prefer to pay in person, park at the RV Park and then return in your toad or Tow Vehicle. Rates are $20 per day, $120 per week or $480 per month. There is also a self check-in box outside the bath house at the RV Park for after hour check-ins. There is a Camp Host sign at the RV Park itself but we did not see anyone there during our stay.
There are 42 full hook-up sites (30/50 amp, water, electric and cable TV) laid out in six rows of 7 sites each. The original fourteen sites (1-14) have the hookups located to the front of the site rather than the rear. When using these sites, you may need to park to the front of the site or have extra electrical cord, water hose and sewer hose. The paved pads are all very large. We saw some trailers on these sites with enough room behind them for a basketball court. The location of the hook-ups was corrected when sites 15 - 42 were put in. Sites 8-14 are back-in sites but all the other sites are pull through. Each site has a very sturdy picnic table. Site 8 is designated as handicapped due solely to its proximity to the bathhouse.

There is a very nice fenced dog run area located on the south side of the RV Park with park benches for the owners and toy fire hydrants for the dogs. Plus there is a large grassy area for dog walking along the North side of the RV Park. There are no fire pits at each site but they are scattered around the RV Park in strategic locations for group socializing.
There is a very nice laundry room with 4 washers and 4 dryers. Cost is $1.00 for washing and $1.00 for drying. We used our own onboard washer/dryer so do not have any actual experience with how they functioned but they looked fairly new and well cared for. There is a nice inside seating area as well as two picnic tables under an outside cover attached to the laundry room. There were ceiling fans located both inside and outside.
The bath house is pretty small but adequate since all the sites are full hook-ups. There is one shower and two stalls in each in the Men's and Women's rooms. They were clean and tidy while we were there but again, we did not actually use them.
We had excellent service on both our Sprint and Straight Talk Cell phones as well as our Sprint Air card. We used our DirecTV service so did not use the included cable TV but the list of 70+ channels seems more than adequate. The information handout indicated that Wi-Fi is "coming soon" but no date was provided.
The RV Park is conveniently located to the commissary, Base Exchange, golf courses, military retiree office, shoppette, Class 6 Store and the Car Wash. The commissary and Base Exchange were medium in size and located less than ½ mile from the RV Park. We rode our bikes to the exchange on a couple occasions but it could also be a pleasant walk too.
There are now two full length 18-hole courses on base. The Warrior course consists of 9 new holes just opened in September 2010 plus the old Meadow View 9-hole course. The Patriot Course combined the old Whispering Pine and Hillside 9-hole courses. Each course has 5 sets of tees to accommodate all level of players. We only had a chance to play the Warrior Course and it was very enjoyable. We saw several people walking the course although we rode in a cart.
The closest fitness center to the RV Park, Pagano Gym was being renovated during our stay. The next closest was the RSA Fitness Center located at Aerobee Road and Patton Road approximately 2 miles from the RV Park. The staff was very helpful and the equipment was very good for all types of workouts.
There is a 6 mile paved biking/jogging trail easily accessed from the RV Park. Take a left out of the RV Park entrance onto Nike and turn right onto Spartan Drive, which will turn into the bike trail in about 100 yards. The trail is a very pleasant ride being primarily wooded and level. It is slightly more uphill returning north to the RV Park. About 95% of the trail is in great shape but you need to be alert to watch for a few breaks and/or bumps caused by tree roots growing under the trail. Although paved, the trail is not appropriate for inline skaters due to the large amount of fallen twigs and pine needles.
Be aware that the RV Park is located in what used to be a residential area so GPS's may direct you to streets that are no longer there. Redstone Arsenal has multiple gates. The MWR website gives their directions to the RV Park using the Gate 9 (Rideout Road), Exit 14 off I-565. When I contacted Security Police to confirm the preferred gate, I was told that due to the width of the Rideout Gate and the number of times it has been hit, Security prefers oversized vehicles to use Gate 1 (Martin Road), Exit 19A off I-565 from 0530 – 2400. Outside those hours, use Gate 9 (Rideout Road) which is the Visitors Center and is open 24 hours. However the Security Police Representative also said if an oversize vehicle does attempt to enter using the Gate 9 (Rideout Road) when Gate 1 (Martin Road) is open, they would not be turned away.
Using the Gate 9 (Rideout Road) is approximately 9 miles shorter overall to the RV Park if you are coming from I-65 but entering from Gate 9 (Rideout Road) will require a U-Turn after entering the gate. Depending upon the size of your rig, you may prefer to enter via Gate 1 (Martin Road). If you do elect to enter via Gate 9 (Rideout Road), after making the U-turn, turn right on Goss Road, drive approximately 1.8 miles, turn right on Jupiter (you can see the RV Park from here), turn right on Hermes, turn left on Nike, turn left to enter the RV Park. (Sites 1 – 7 are accessed directly from Nike with a sharp left turn). If you have been assigned Sites 1-7 and are in a big rig, take a LEFT on Hermes instead of right, then turn right on Spartan, then right on Nike, after the RV Park Welcome sign sites 1-7 are accessible on your right.
If you elect to enter via Gate 1 (Martin Road), from I-565 take exit 19A south onto S. Memorial Parkway. Go about 3.5 miles and keep right on ramp to Martin road. Go another 1.6 miles to Gate 1 - Keep right and stop for inspection. After passing the gate, continue on Martin Rd SW for another 1.5 miles and take the right off-ramp onto Patton Rd. Note the sign and location for Outdoor Recreation. Turn right (North) onto Patton Rd SW and go about 2.1 miles. Turn left onto Aerobee Rd and go about .5 miles, then turn right (North) onto Vincent Dr. In about .8 miles, turn left (West) onto Spartan Dr. Go through a housing area for about .2 miles and turn right onto Nike St. In about .3 miles, you'll see the campground on your right.