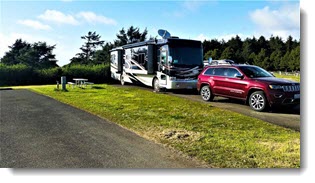 Perched on a bluff overlooking the scenic coast of Washington State, Pacific Beach is the perfect location for combining business with pleasure. The resort offers full catering service for your overnight group conference, retreat or training. Adjacent to the resort is the Pacific Beach RV Park, which overlooks the Pacific Ocean. It provides power, cable, water, picnic tables, a cook shelter and showers for registered guests.
While operated by Everett Naval Station, the Pacific Beach Resort and Conference Center located in Pacific Beach, WA. This is in the southwest corner of Washington state. There's 43 RV sites with water and electric ($18 - $25), 18 tent/camper sites ($11 - $15), and over 60 lodging rooms (of various types $52 - $250) available. A RV dump station is available, as is a "honey-wagon" service ($15). The RV Park had great, free Wifi. The restrooms/showers wer very clean, and a small laundry room was available.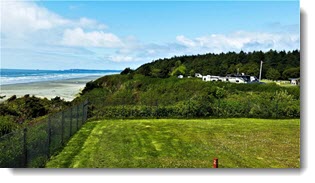 We only stayed for a couple nights, but greatly enjoyed our visit. We got lucky, as they were having a Customer Appreciation offer when we arrived. We got 50% off our RV site. $12.50 a night was a very good price. We were here at the beginning of the "peak season", but the campground and RV sites were almost empty. They are currently remodeling the restaurant and hot tub area. While here, we took a day trip to the Olympic National Park and the town of Forks. Beautiful rain forests and we liked the free "Twilight" (vampire movie) museum in Forks, WA. We enjoyed our visit at Pacific Beach and would return when in the area
=====> You can find information, maps, and photos of Pacific Beach Resort and Conference Center here.
=====> You can view a driving tour video of Pacific Beach Resort here.