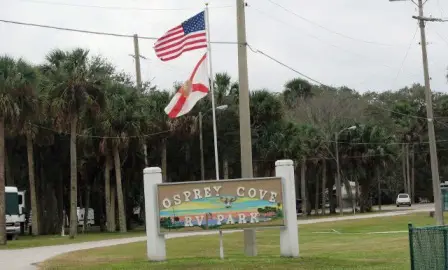 We visited Naval Station Mayport, FL during in February, 2010. This is the second RV Park available at Mayport, with the other being Pelican Roost. However, this RV Park is for long-term stays with a minium of 1 month and a maximum of 6 months. I was informed by the MWR staff that you can extend past the 6 months limit for 1 month at a time, if space is available.
For me, this park had some controversy attached to it. I don't know how long this long-term RV Park had been in existance, but we learned about it a few years ago. Until I included the information about this RV Park, there was no other information available anywhere about it. After I reported this newly discovered "secret" military campground, I was contacted by a civilian manager working at MWR at Mayport. They were VERY UPSET that I had reported the existance of this RV Park and had provided all of the details. They complained that I was providing inaccurate information and "demanded" that I remove Osprey Cove from the U.S. Military Campgrounds and RV Parks website and the U.S. Military Campgrounds Directory software. When I replied that I would be happy to correct any "inaccurate" information and requested those corrections, their reply was pretty rude and "demanded" again that I remove the information completly. As you can tell, the information is still listed and I'm pretty sure the information provided is accurate. Especially since I visited the RV Park first hand. It was an unusual experience, making this mysterious RV Park as a true "secret" military campground. It seems they didn't want anyone to know about it.
Since our visit was during the winter snowbird season, the RV Park was full. I understand reservations fill up fast for the winter season. In addition, the RV Park contains numerous active duty staying there long term.
Osprey Cove RV Park is a converted mobile harm park located deep in base housing next tp to the youth center. Not really an prime location for an RV Park. Getting to the park involves driving VERY SLOWLY through base housing. Although we didn't have any problems finding the park, we have updated the driving directions here to make it easier to find. You still need to visit the Pelican Roost RV Park to check in for Osprey Cove. So head to Pelican Roost first.
The 50 FHU RV Sites at Osprey Cove are spread out among grassy sites with paved roads and parking. Your RV goes back into the grass, while your personal vehicle stays in a shared parking space near your site. Remember, this was once a mobile home park. The RV Sites have a concrete patio with a picnic table. Many of the sites require the RV to drive back into the grass and trees, making getting a satellite signal difficult. It all depends on the site you're assigned.
Many of the sites had the appearance of being there for a very long time, since it is a long-term RV Park. There's no dump, laundry, restrooms, wi-fi, or other facilities at Osprey Cove. It's basically a housing area for RV's. However, there is a large playground nearby (typical of base housing). Pelican Roost is a mile or so away and has all of these amenities, including free laundry. They probably would frown on Osprey Cove guests using "their" free laundry. But there is a small laundromat available on base.
Naval Station Mayport has all of the usual facilities of a large active duty Navy base. However, the Exchange and Commissary are off-base, down the main road A1A a couple miles.
Overall, this is a nice and clean RV Park. For $420 a month, it's not a terrible deal either. If you're looking for a place to stay for quite awhile and you can get reservations, Osprey Cove might be a good choice for you. Oh - and I haven't had anymore mean emails from MWR. The lady at the Pelican Roost check-in desk was very nice and answered all of my questions about Osprey Cove.