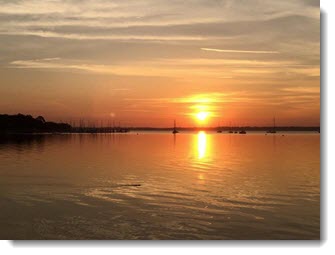 We couldn't get a reservation for Jacksonville NAS RV Park, so we had to stay nearby. We made a visit to this RV Park to see what's changed since our last visit 10 years ago. Much has changed, all improvements. We followed the directions published on the website and they were perfect. The Yorktown gate is perfect for RV 's to use.
After stopping at the MWR check-in office to say "hello", we continued down to the RV Park. The park has gravel roads with lots of pot-holes. However, there were piles of gravel, so I suspect they are getting ready to re-apply gravel to the roads. The laundry, restroom, and showers appear to have been recently renovated. The facilities had newer fixtures and were very clean.
The RV Park has 16 pull-thru sites and 22 back-in sites. They are reasonably priced at $22 a night for military and $24 for civilians. All sites now have full hook-ups with water, sewer, and 30/50amp electric. There's no tent sites available anymore. Sites are spaced apart fairly well. As mentioned before the roads are gravel as are the sites. There's (kind of) grass between the sites. There did appear to be some long-term residents with junk around their sites. There's not much landscaping in the RV Park, so it has a rustic, unkempt appearance.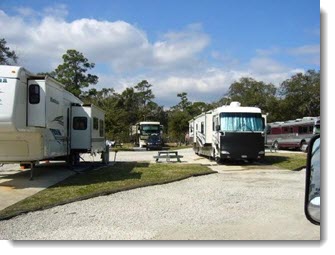 There's free laundry and free WiFi. However, there's been mixed reports on the WiFi from good, to real slow with lost connections. We didn't test out the WiFi ourselves. The RV Park has a average user rating of 4.1 (out of 5).
The RV park is located on beautiful Manatee Point on the Saint Johns River. The river offers fishing, boating, Manatee watching and a cool breeze. A full service marina with boat rentals is convenient to the park. Jacksonville NAS is a golfers paradise with 27 holes of year round golf. The course is within walking distance from the park and Mulligans offers breakfast for you early risers. Jacksonville Naval Air Station is a large base with all of the amenities you expect, with a large commissary, exchange, gym, marina, and gas station (with diesel). Of course, nearby Jacksonville is a major metropolitan area.