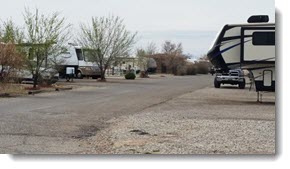 We visited the Holloman AFB FamCamp in early March, 2019. It had been quite a few years since we've been here. I was stationed at Holloman AFB back in the late 90's and it was fun to see our old house and work place. The base hasn't changed much, but the F-117 Stealth Fighters are now gone. Drones appear to be one of the main missions now.
I was aware the FamCamp was doing an upgrade and wanted to see what was being done. They had recently installed 12 additional FHU sites, but still needed to add the shelters at each site. They also plan to build a BBQ Pavilion and do some landscaping. This brings the RV Park up to 35 available FHU RV sites. There's also a restroom, shower, and laundry room available. WiFi is available in the RV Park, but the signal is best next to the bathrooms. They're supposed to have cable TV, but there's been reports that it doesn't work anymore.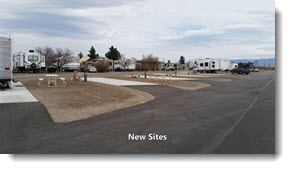 The RV Park was about 50% occupied during our visit. There is evidence of some long-term campers here, but only a few. This is really a no-frills RV Park, but does meet the basics. Too bad the location isn't away from the highway. The RV Park is along the highway, separated by a block wall. Coming in the commercial gate is the easiest and recommended way to get to the FamCamp with a large RV, but it's only open weekdays from 0600 - 1800hrs. The alternative is the main gate, but there's tight "S" curves and a narrow entrance through the gate. The base has a large BX and Commissary, along with a golf course, gym, pools, library, and many other amenities.
Holloman AFB is a very active Air Force base with several missions. It's only located about 8 miles from the White Sands National Park. This makes the FamCamp a great location for touring the area. The town of Alamogordo is nearby, with several restaurants and a Walmart store.