Redstone Arsenal, Huntsville, AL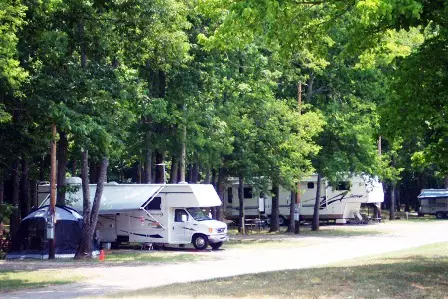 Redstone Arsenal has TWO campgrounds located on base. Easter Posey MWR Campground is the opriginal, and older campground. We visited this campground while in the area in February, 2010. We didn't have any problems finding the campground following the directions posted here. However, we started to wonder if we were going to find it. This campgound is located in a remote part of this large base, away from all other activities. This is good for a quit and scenic camping experience, but not so good to make a quick run to the BX or Commissary. The campground is located across the street from the Tennessee Rriver.
During our visit in winter, the campground was completely empty. Although, the weather was cold, it was dry during our visit. The campground is open all year. They advertise the water is turned off in the winter, but it was still operating in that February. Campers can check in at Outdoor Recreation, but it's easier to use the self check-in box (if you don't have a reservation) located at the campground restrooms. Reservations are accepted 60 days in advance, but be sure to cancel (if needed) at least 5 days in advance. It appears there is a camp host available during the summer. I'm not sure if they can check you in if you have a reservation.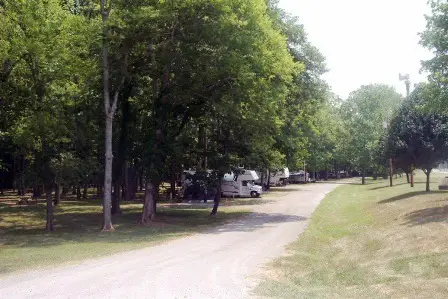 The campground is full of trees with dirt roads. Some camp sites are paved with asphalt, some are dirt. All sites have picnic tables, a BBQ, and a fire ring. They also have water and 20,30,50A electric at the sites. There's no sewer connections and there's no sewer dump at the campground. However, there is a dump about a 1/2 mile away on the way out from the campground at the corner of Buxton and Shields roads. The dump is fairly well marked. I wouldn't suggest large rigs use this campground; most of the sites are less than 30' in length. Although a large rig may fit into "some" of the sites, making the turns would also be difficult and there are plenty of low hanging trees. Large rigs should use the RV Park located on base instead.
Other amenities located at the campground include an old bathroom and shower house. Despite it's old condition, it was kept fairly clean. Across the street along the river is a playground, picnic pavillions, and volley ball courts. Of course, there's the Tennesse River also.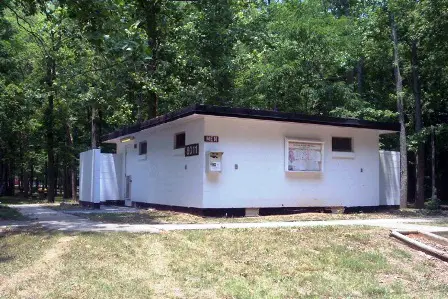 I would classify this campground as a quiet get-away camping location, not a RV Park. It appears to be a great and fun place to bring your family. During our visit, the $12 a night camping rate makes this a good value and a true military benefit.