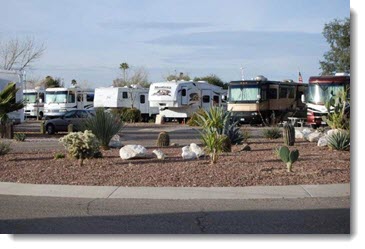 It had been quite a few years since we've visited the Davis-Monthan AFB (AZ) FamCamp. Until a couple years ago, this FamCamp was called "Agave Gulch FamCamp". They are constantly improving this FamCamp and we needed a place to stop for a few days. We knew that it was their busy winter season and didn't expect to get a hook-up site. We were glad to get a dry-camping site.
The Davis-Monthan AFB FamCamp doesn't take reservations. Everything is on a first-come basis. During the winter, they are very busy and implement a rotation policy to get a full hook-up site (if they are full). If you need to go into dry-camping when you arrive, you can go on a waiting list for a FHU site. They have TWO different stay limits:
If you pay the daily rate, people are allowed to stay in a FHU site for 21 days, then they must rotate back to dry-camping. If there's nobody on the waiting list, they can extend their FHU site for another 21 days. Each morning, they post the waiting list and you can check on where you are on the list. When a FHU site becomes available, people at the top of the list get to rotate into a FHU site and start their 21 day stay limit there. Depending on how busy they are, you could be on the waiting list for a couple weeks or more. Your RV needs to be there to get on the waiting list. During our short visit in February, there was over a 2-week waiting list for the FHU sites.
All sites are also available on a 3-month or 5-month "contract" basis. (This is a change, as in previous years only 25 sites were available on contract.) You need to pay the contract price in full in advance and there's no refunds if you leave early. At the end of your contract, you can extend for up to 6-months, if there's a vacancy in the park. Otherwise, you need to leave for 24 hours. This contract method has allowd active duty stationed on the base and civilian contractors working on the base to occupy over 60% of the sites during our visit. A 3-month contract is $2,070 and a 5-month contract is $3,473.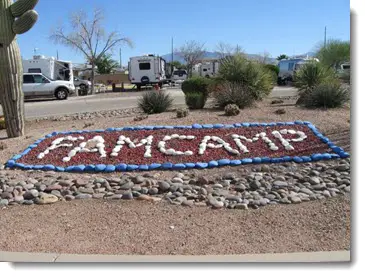 Davis-Monthan AFB FamCamp has 197 full hook-up sites with water, sewer, and 20,30,50 Amp electric and 57 dry-camping sites. Most sites are pull-thru, but there are some back-in sites. Currently, FHU sites are $22 a night and dry camping is $11 a night. There are also a few tent sites available. Again, a very fair price for a military campground. The "contract" rates end up being about a dollar more per day (you pay for the convience of not havng to move).
The RV Park also has free WiFi (not great). The office is staffed 7 days a week. The clubhouse (office) has free coffee, TV, book exchange, information on local attractions, and a tourist coupon book for sale. Davis-Monthan AFB is a large base with a large commissary and base exchange and mall, 2 fitness centers, recreation center, outdoor pools, ITT, and much more.
Davis-Monthan AFB is home of the famous military aircraft "graveyard". Acres of aircraft are wrapped, sealed, and mothballed. We had a view from our RV site of hundreds of sleeping aircraft. We even saw a few B1 Bombers getting a sunburn in the desert. The base is located on the eastern edge of Tucson. Being a large metropolitan city, there's a ton of activities, dining, and entertainment available. But the campground location isn't in the heart of the city, so you don't have the traffic and noise of downtown (but you do have USAF aircraft). Within a short distance is the Saguaro National Park, the Pima Air and Space Museum, as well as a drive up Mt. Lemmon. The Desert Garden and Old Tucson (movie set) are on the other side of town, but worth visiting. Another must see is to visit the Titan Missile Museum, about a 40 minute drive south. There's all sorts of outdoor activities available in the area.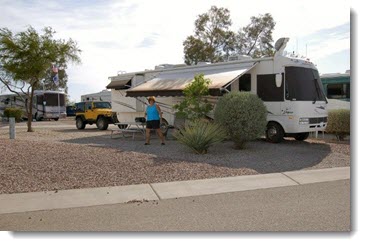 During our stay in February, 2019, we enjoyed warm sunny days in the mid-60's (F) with the nights getting down to the mid 30's. Much better weather than most of the nation. You can see why Arizona gets pretty busy during the winter, with all the "snow-birds" getting away from the cold. We enjoyed our short, 3-day stay and wouldn't hesitate to stop here again when driving through southern Arizona. Staying in the summer would be pretty hot though. But I bet you can go directly into a FHU site in the summer.