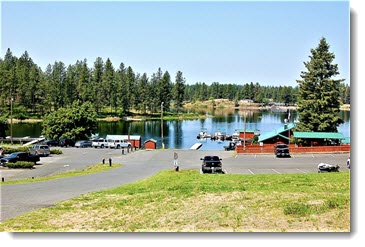 The Clear Lake Recreation is located on Clear Lake near Cheney, WA (west of Spokane) and is operated by Fairchild AFB. The Recreation Area is only about 12 miles from the AFB. While staying at Fairchild AFB FamCamp, we stopped by to check out the Clear Lake Recreation Area and have lunch. This Recreation Area offers a picnic area, RV sites, tent camping, a yurt, and cabins for rent. There's also a large variety of watercraft for rent. They also have a small store and cafe. They make a great hamburger in the snack bar. The staff we met were all fantastic and a pleasure to talk with.
There's 24 RV sites with water, 30/50amp electric, and sewer for $20 a night. The 6 tent sites are $15 a night. I felt the RV sites looked a little close together, but they allhad good views of the lake. Half of the campground has a 30-day stay limit and the other half has a 90-day stay limit.
We made a couple wrong turns trying to find the recreation area with the directions that we had. No problems now, as the directions have been updated on the website. There's no security at the gate, as the recreation area is located off-base. The small town nearby does have a few stores and restaurants, but Fairchild AFB is only 12 miles away for the large commissary and base echange. With a good variety of watercraft for rent, this location makes for a wonderful vacation spot. I can see it getting very busy during the hot summer! I wish I had planned this trip better and had the time to take a pontoon boat out for a day on the lake. It looked so inviting. Highly recommended!