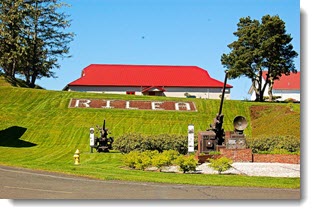 The Camp Rilea Campground is located at the Camp Rilea Armed Forces Training Center in Warrenton, OR. This Training Center is operated by the Oregon Military Department (consisting of the Oregon Army National Guard and the Oregon Air National Guard). It's located on the Pacific coast in the northwest corner of the state.
This is a quiet, beautiful, and well maintained installation. The campground consists of 10 full hook-up RV sites ($25), 8 electric only RV sites ($15), and 3 tent sites ($10). The campground overlooks the installation of green grass dotted with white buildings with red roofs. During our visit, a herd of Elk were near the campground, a pair of Osprey were in their nest near us, and a pair of deer wondered through the camp sites. It was a very serene visit.
Camp Rilea is near the historic Fort Stevens, which was in operation from the Civil War to the end of World War II. A very interesting place to visit and tour. The famous Tillamook Cheese factory is nearby (now called the Tillamook Creamery). Also, the scenic town of Astoria is nearby. Fishing charters are available all around. We were also there during the annual Crab and Wine festival.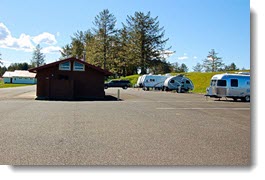 Being a guard base, Camp Rilea doesn't have many services. There is a very small exchange and a small grill/pub. The campground does have restrooms and showers available. They were pretty clean during our visit. There's also a RV dump station available on the base. WiFi isn't available. However, there is a free laundry room available on the base (not at the campground). The RV sites don't have any shade, but the tent area is located in the tall pine trees.
There's also a wide variety of cabins and rental houses available ($50 - $150). Many military travelers will enjoy Camp Rilea with it's location on the Oregon coast. While not a large or fancy RV Park, Camp RIlea Campground is highly recommended. Just be sure to make reservations. Whenever we're in this area, you bet we'll stop by for some Rest & Relaxation.
=====> Click here for information, maps, and photos on the Camp Rilea Campground.
=====> Click here for a short driving tour video of Camp Rilea Campground..