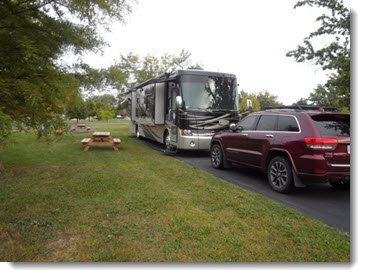 Camp Perry is located on the Camp Perry Military Reservation, which is located on the shores of Lake Erie, near Port Clinton, Ohio. The Lodging and Conference Center overlooks beautiful Lake Erie and is an ideal location to hold an all-week conference, a one-day workshop, business meeting, wedding reception, or any gathering of friends and associates.
We arrived in late September, 2019 without reservations. We didn't have any problems finding Camp Perry, but finding the check-in office or campground proved to be a slight challenge. There were signs to follow, then all of a sudden at a "T" intersection, the signs stopped. With a 50/50 chance, we turned the wrong way. We were looking for the RV Park. We made a U-turn and drove to then end of the road, which looked like it was going into a housing area. So we made another U-turn. This time, we stopped at a HQ building and got some directions to the Conference Center, where you check-in at. Finally, we checked-in and got our RV site. Of course, I've made the directions on the website clear so you won't have the same problems.
The training post was very quiet with almost nobody there. It's open to the public with no security. The conference center, lodging, and RV Park are all fairly new. There were only a few RV's there in the available 40 full hook-up RV sites. They also 18 cottages and a bunch of hotel rooms for rent. The cottages are right on the beach where the beaches on Lake Erie are a short walk from the RV Park. We paid the military rate of $30 a night, where a civilian would be paying $45 a night.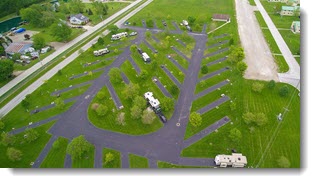 The RV sites are spacious, with grass between the sites and a paved road and RV pad. The water and electric are locked, so be sure to get your key when you check-in. WiFi was available at the RV Park, but I couldn't get an Internet connection. Verizon cell signal was OK, easy to get satellite dish signal. Restrooms/showers are new, basic and fairly clean, although work was being done on some showers. Check-in staff was very friendly. There isn't a dog park and dogs are not allowed anywhere outside of the RV Park. We didn't look for any laundry facilities.
The National Matches, considered America's "World Series of the Shooting Sports", have been a tradition at Camp Perry, Ohio since 1907. Each summer, the nation's finest civilian and military marksmen and women square off for five weeks of rifle and handgun competition in a variety of formats and events. The Military Reservation doesn't have much on it, but it gets VERY busy during shooting matches.
During our visit, we took a day to visit the Henry Ford Museum and the Ford (F-150) Factory tour located 90 miles away in Michigan. We greatly enjoyed the day and our visit to Camp Perry. If we are back in the area, I wouldn't hesitate in staying here again.

Information, maps, photos, videos, and details on Camp Perry RV Park.

Drive-through video of Camp Perry RV Park.