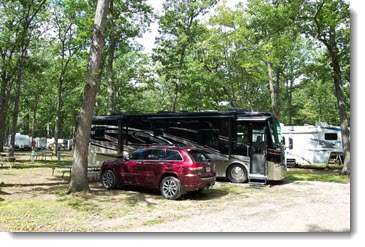 Camp Grayling RV Park is operated by the Michigan National Guard and is located at the Camp Grayling Joint Maneuver Training Center in Grayling, MI. It's located on southern edge of Lake Margrethe. It is an excellent fishing lake with a fishing dock.
We arrived near the end of September 2019 without a reservation, but it was late in their season (they close the beginning of October). There were plenty of open sites. The hosts were very nice and took us to a 50amp FHU site with space for large rigs. There's 5 of these "large rig" sites ($20) and 60 sites with 30amp electric ($17). All sites include water, sewer, and cable TV. Cable TV was nice to have and worked fine. There were too many trees for us to get satellite TV. WiFi is available and worked "okay", but our Verizon was much faster.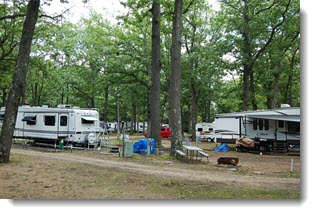 The campground is slightly rustic and in dire need of a good clean-up, maintenance and enforcement of rules. They allow "seasonal" campers (about 5 months). Their sites all look trashy with decks, fences, extended sites into the forest, junk all over, etc. I don't object to the seasonal rates, but the campers should be required to keep their sites cleaned up. When the seasonal campers leave, some appear to leave their RV on site all winter. Many leave concrete blocks, pallets, and other junk on their site during the winter. The site we were assigned to had much of this junk in it. Sites should be cleaned out and empty for the next camper. I think the seasonal campers think they own that site.
The RV Park has bathhouse with showers. The bath house was recently painted and slightly renovated. But it's old and shows it's age. However, it was (mostly) clean. There's no laundry at the RV Park, but there is a laundromat available near the NCO Club on post. Very old, very dirty and not taken care of. But it was free and most of the machines worked (although very trashed). The lake with a small beach is a short walk from the campground. There's also a very small exchange on post, mainly stocked with items and snacks for the troops in training. Despite the negatives I've stated, it's a nice place to visit. The rates are perfect for what you're getting and it's location. Reservations are highly recommended for the summer.

Information, maps, and additional photos on Camp Grayling RV Park, MI

Driving tour video of Camp Grayling RV Park, MI