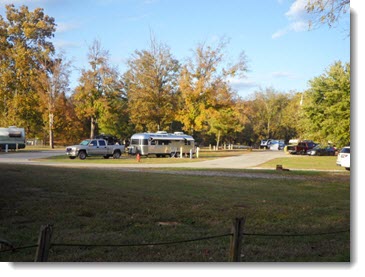 Camp Carlson Recreation Area is the Army campground serving Fort Knox, Kentucky. We stayed at Camp Carlson for 4 days on mid-October, 2019. The campground is located directly on Fort Knox, but is only a few miles away in a quiet area near a small lake. The recreation area spans 65 acres of natural beauty, with a 25 acre lake that catfish, bluegill, crappie, and bass all call home. There's an RV Park with 59 full hook-up sites, 10 family cabins (more are being built), group cabins, tent sites, and four picnic areas. They also have a large A-Frame structure (called Carlson Hall) that will seat up to 175 people inside with two patios for extra seating outside. This is ideal venue with plenty of parking for a wedding reception, a family reunion or other functions.
We stayed in the RV area, which was about 75% occupied during our visit. Just to be safe, we did have reservations. Since it was still "prime" camping season, we paid $30 a night for the back-in RV site. During "off" season, the price goes down to $25 a night. Reading the reviews, I knew to ask for a site where I could get satellite reception. The campground is in a small valley and full of trees. Some people mention there's no cell-phone reception in the valley, but we were able to get a decent Verizon signal (with a booster).
The recreation area does have paved roads, but there's also plenty of gravel roads. The RV sites are gravel with grass between sites. They are spaced apart nicely, so you're not looking in your neighbors windows. The restrooms, showers, and laundry room were clean. They also have a couple fenced in dog areas and kids playground in the RV Park. The laundry room had around 8 washers and 8 dryers, each being $1 a load.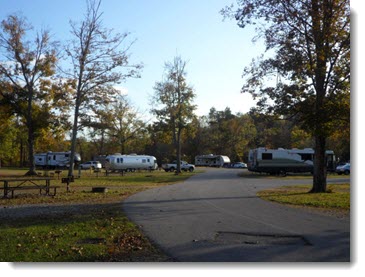 While the recreation is nice, we didn't spend much time there. We were busy out site-seeing every day. We toured Churchill Downs Horse track, the Jim Beam Bourbon distillery, the Patton leadership museum on Fort Knox, and spent a day at Mammoth Caves. We didn't have time to tour the Johnny Walker distillery or the Fort Knox Gold Depository. Oops - they don't really give tours of the gold depository. But we did drive by it a few times.
Be sure to check out the many photos and the video we made of this recreation area. We enjoyed our visit to Camp Carlson Recreation Area and won't hesitate to go back.

Information, maps, and photos of Camp Carlson Recreation Area.

Video of Camp Carlson Recreation Area.