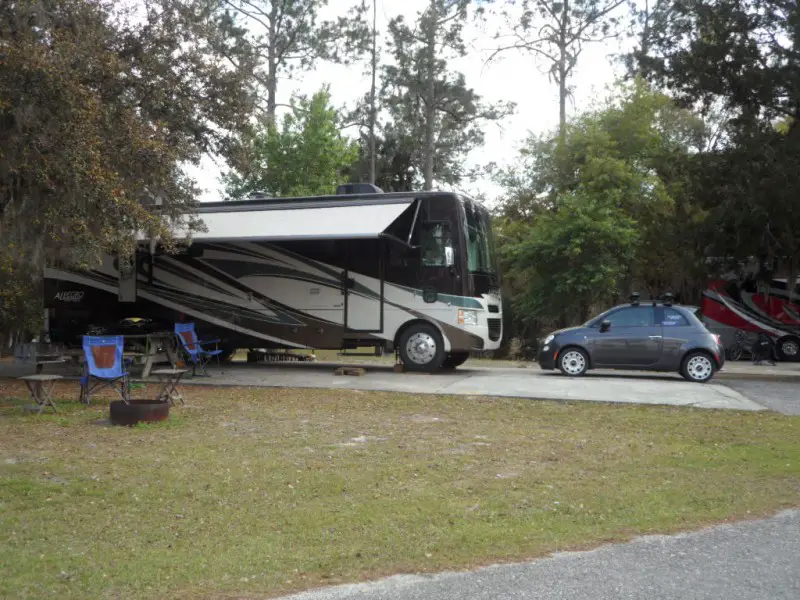 We were finally able to stay at the Camp Blanding Recreation Sites, located in Starke, Florida. We originally had reservations for a week in the Johnson RV Park. However, due to some RV repairs taking longer than expected, we ended up canceling our reservation. There's a one-day non-refundable fee for cancelling a reservation. After our RV repairs, we were able to stop by Camp Blanding. We couldn't get a reservation again, so we took our chances at the McKenna Campground. This primitive campground doesn't take reservations. We arrived on a Thursday and were able to get a site fairly level and long enough for our 40' motorhome. This site included water and 50amp electric. We had a wonderful view of the lake. The site was great and $15 less per night than the RV park would have been.
We followed the driving directions posted on the website, which took us directly to the check-in office. The Johnson RV Park is directly next door. This RV park requires reservations and only allows self-contained units (no tents). There's no restrooms, showers, or laundry in the RV Park. Pets are allowed, but cost $3.50 per night, per pet.. They do have a fenced dog run area. The road was a very old asphalt road with mostly back-in sites. There are a few pull-thru sites. Some of the RV sites. have good views of the lake. There's 49 full hook-up sites, each with water, sewer, and 30/50amp electric. SItes along the lake were $35 per night, with the other RV sites being $28 per night. As previously mentioned, there is a non-refundable one-night deposit required.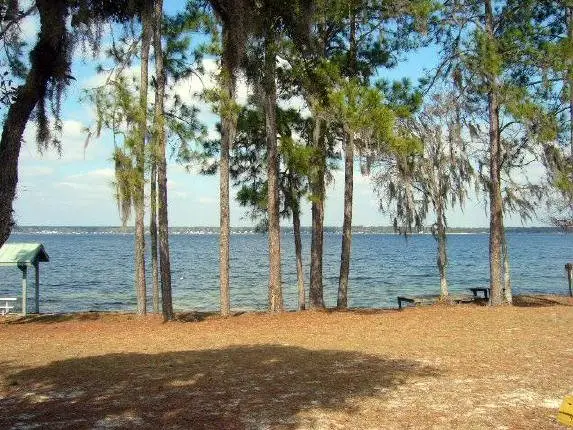 The McKenna primitive campground is located next door to the RV Park. There are 5 sites that are full hook-up with 30/50amp electric. These five sites require a reservation and are $28 per night. Sites #5-29 and #32-43 and site #45 are water hook-up only at $14 a night for pop-up trailers or a limit of 2 tents per site. Sites #1-4, 3-31, 44, and 58-69 have water and 30/50amp electric for $20.25 per night. These sites allow RV's or one tent per site (tents not allowed May 1st - Aug 1st). This campground doesn't allow pets at allow. However, the campground does have restrooms and showers and a laundry room. The restroom/showers are a bit old and run down, but had been cleaned. This campground had good access to the lake, including a boat dock and designated swimming area (at your own risk).
We were in the McKenna primitive campground for a weekend. As expected, campers starting coming in on Friday evening. The noise was kept to a minimum. We enjoyed watching the families having a great weekend, with lots of water sports taking place. Boats, jet skis, rafts, and paddle boards were all over.
Camp Blanding itself was having a training weekend. We had several mortars being shot nearby, rattling the ground and the RV. Many times, they scared the %$## out of us! While a large training base, there's no facilities for us to use. Gas, diesel, stores and restaurants are about 10 miles away.
We enjoyed our short stay at Camp Blanding and would gladly return again.

Information, maps, photos, and videos on Camp Blanding Recreation Sites.

Drive Through Video of Camp Blanding Recreation SItes.